As a property project finance specialist, we hear all the complaints developers have about how hard it is to secure finance from more traditional (cough bank cough) lenders.
What's more, bank policy can change in what seems like an overnight decision and just as you thought you'd finally secured finance, the goal posts change and you're back to square one.
As a result, there is a move towards non-bank lending options for property developers. These come in different shapes and sizes and are useful at different levels. The main concern is whether these lending options understand property and property developers who, as you know, have very specific needs.
CrowdProperty Australia's property director Daniel He breaks down the key elements you need to consider to secure finance for your next property project with speed, ease and certainty.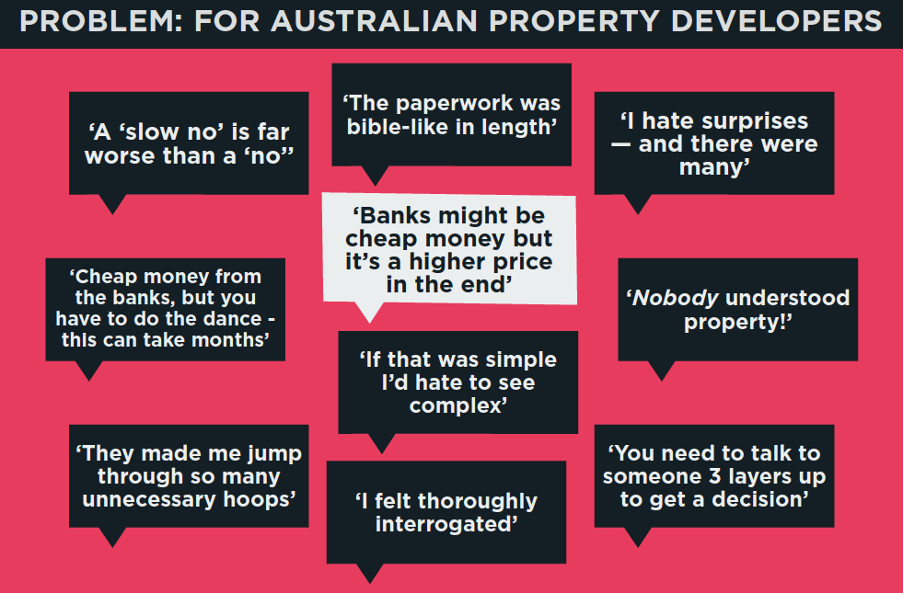 Trusted partner
As a developer, you want to speak to a property expert who understands the various stages of property development, from finding the next project, acquiring the site, getting all the approvals in place, building or renovating the project, and exit. Really, you want your finance provider to be a trusted partner in your project, a partner who has the success of your project at the core of their own business goals.
And that's where we come in! CrowdProperty Australia is a specialist property project finance company, run by people who have deep experience in the property industry. We understand you.
5 tips to secure property project finance
Here, I've outlined the things we look for in a good application for finance to help you understand how to prepare for a great outcome in winning finance for your project. Once you apply with CrowdProperty, we'll aim to get back to you within 24 hours and typically can provide an indication of lend within a few days (all depending on the quality of the application, of course, but that's what these tips are for!).
Here are my top tips to secure the finance you need for your property project.
1. Be open and transparent
Whether it's a two-townhouse development or a five-storey high-rise, we can help assess the deal based on the information you provide. What we look for is consistency, otherwise known as congruency, to ensure the deal makes sense, and that you as a developer are well placed to run the project. We want the project to perform well — on budget and on time — as much as you do.
The best way to do this is to be as open as possible about the deal. Perhaps you're worried about flooding, or perhaps there are trees onsite that are a concern. Chances are, these things will surface during our due diligence and may set you back if they're a surprise to us.
Be assured that all deal information forwarded to us is confidential in nature and will be used for assessment purposes only, so put your mind at ease that it's in the right hands.
2. Have your paperwork in order
Do you have a Development Approval (DA) for your site? Do you have a feasibility study for the development or maybe some graphical renders so we can visualise your project? Having the right paperwork is crucial part of getting your finance approved. It's important to have all the documentation ready to go so there's no delay in assessment. There's a real buzz when we see a new, promising project, and we want to carry that momentum forward with the right documentation.
3. Know the financial position of the deal
Can you answer these questions?
How much do you want to borrow?
What is your equity position?
What is the equity source — is it investors, or equity from improvements such as a DA?
What's the current loan amount on your development site?
Having the answers to these questions allows us to provide you with an initial figure of what we think can lend to you, so you can quickly assess whether it suits your development. Once you're okay with the initial terms, we can conduct further due diligence and get legals in place to ensure everything stacks up and you're ready for funding.
We have completed deals including development of simple outright land ownership, or JV partnerships and multiple equity investors, as well as second mortgages — nothing is too complex (or too easy) for us.
Most importantly we listen to your needs, and provide a solution tailored to get your project off the ground.
4. Be prepared to talk about the whole deal — the good, bad and ugly
Tell us about where you're having trouble with the deal. We have many decades of development experience across our teams both here and the UK and have been able to highlight and assist with project strategy, and even outline opportunities that may present. While we don't provide specific advice, we have a network that has almost certainly seen your issue or overcome them in the past. By talking through the project, you're able to leverage our experience to ensure your project runs smoothly.
Which brings us to the last point…
5. See your financier as a partner
We want, first and foremost, for your project to be an absolute success — this is why we do what we do — property finance for property people!
We value relationships over deals, and, for the right person, will move mountains to ensure they are looked after. One of the things developers mention is our early finish policy — if you complete a project ahead of schedule, you're only charged interest for that period. Say you take a construction loan for 18 months, but you sell all the products before completion and your build finishes in 12 months, including settlement — in this case, we only charge you for 12 months of interest, not the full 18 months. Hopefully that means you come back and take out another loan for your next project — everyone wins!
If you're keen to talk about property development finance and are saying yes to the above, please get in touch - we would love to hear from you!