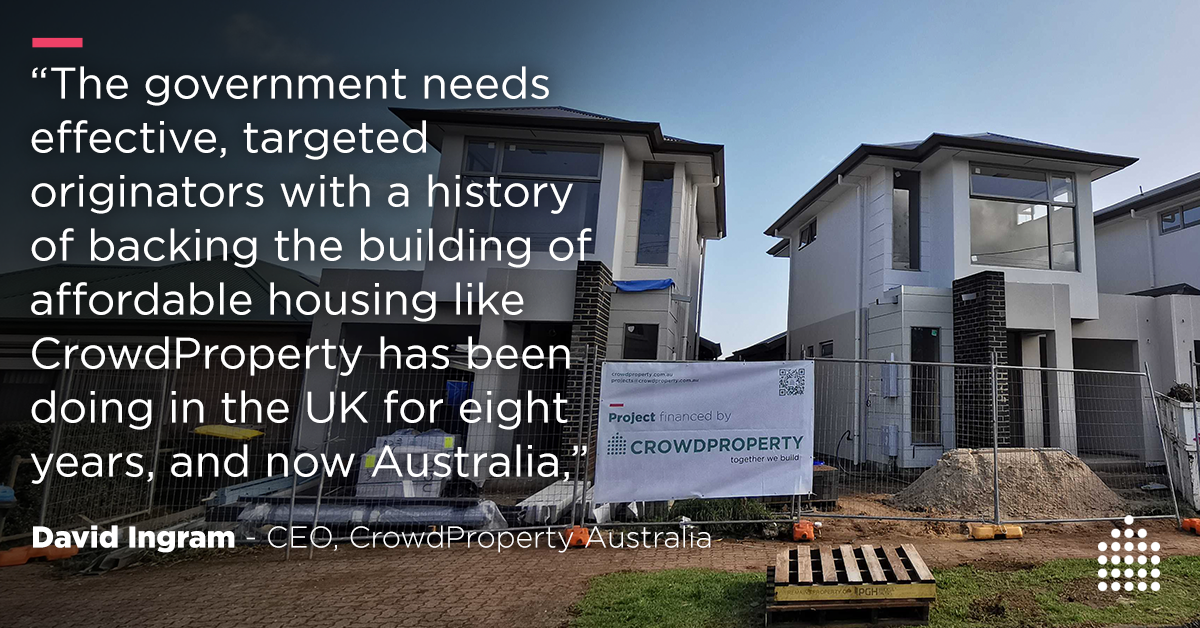 Treasurer Dr Jim Chalmers has announced ambitious plans to increase Australia's housing supply as part of 2022 federal budget. The plans centre around a national housing accord involving government, investors, and the construction industry. If the accord works out as intended, these parties will collaborate to build one million new homes over the five years from 2024.
Speaking in response to the budget, David Ingram, CEO of property development marketplace lender CrowdProperty Australia, said changing the focus from incentives that only drive demand, and prices, to initiatives that can potentially unlock supply of affordable homes where people want to live is a welcome change.
"Small-scale builders and developers play a very important role in identifying the infill opportunities," Ingram said.
"This is where we need to build more homes for people unable to get onto the housing ladder for a variety of reasons, including key workers unable to find affordable homes close to schools, hospitals etc, to the growing segment of the homelessness among older women."
What is the intent of the accord?
The ultimate intent of the accord is to increase the number of homes available for Australians.
"We want more Australians to know the security of decent housing and more Australians realising the aspiration of homeownership," Chalmers stated, alongside housing minister Julie Collins.
The immediate focus will be on providing housing for those most in need. The federal government already has concrete plans to facilitate construction of 30,000 new homes through the $10 billion Housing Australia Future Fund. These homes will address the acute shortage of affordable housing for Indigenous Australians and victims of domestic abuse and violence.
Over time, thousands more homes will be built under the accord, across the country.
New builds will be affordable, well-located and energy efficient. The federal government is working with state and local governments to ensure "an adequate supply of affordable housing where it is needed - close to jobs, transport and other services."
How will the accord work?
The accord is essentially an agreement involving three parties: governments, private investors, and the construction sector. While governments will play the pivotal role in coordinating the accord and kickstarting projects with public funding, Chalmers said that most of the new housing "needs to come from the market".
The federal government has already pledged billions for social housing projects.
Alongside the $10 billion Housing Australia Future Fund, a further $350 million of federal funding will go towards building 10,000 affordable homes before the end of the decade. The government has also announced up to $575 million of unallocated funding to expand the remit of the National Housing Infrastructure Facility, $324.6 million to establish the Help to Buy Scheme, and $15.2 million to create a National Housing Supply and Affordability Council.
State governments have made similarly ambitious commitments.
According to Chalmers, Australia has a relatively low level of institutional investment in housing, despite having the world's third largest pool of capital in superannuation funds. He hopes the accord will funnel some of this capital into housing stock, benefitting both those in need of new homes and those seeking strong returns on their investments.
Ingram said it was pleasing to hear that government recognises its role in making funds available and bringing state and industry partners to deliver on some big goals.
"The government needs effective, targeted originators with a history of backing the building of affordable housing like CrowdProperty has been doing in the UK for eight years, and now Australia," he said.
"Not only are we experts in this space, but we also have a scalable platform that allows us to crowd in funding from diverse sources of capital to leverage retail, wholesale, and super funds — funds that in the UK will soon include government money.
"The challenge is that government can't distribute money. They can make it available, but need expert, targeted originators like CrowdProperty — financing small scale developers building to rent and sell affordable housing including NDIS and co-living projects in established suburbs down the east coast and South Australia — to distribute and manage that capital."
What does the accord mean for the property sector?
In short, the accord is excellent news for Australia's property sector.
Chalmers' statement that most of the one million new homes will need to "come from the market" is a clear signal that opportunities will be available to developers. The sheer ambition behind the plans suggests the boost to the property sector could be unprecedented in scale.
The accord has yet to specify the details of how it will involve smaller property developers and investors. Given the magnitude of the project, though, it will pay to keep an eye on how it unfolds.
CrowdProperty provides fast, simple, and transparent property project finance for property professionals. Learn more.