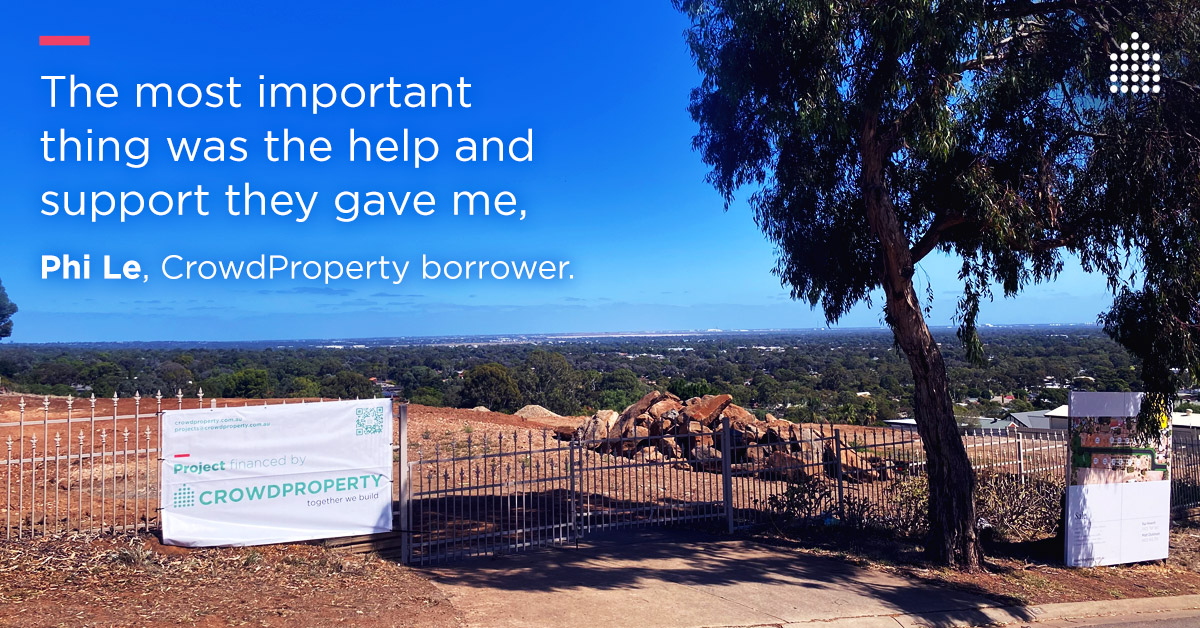 When Phi Le, a mortgage broker turned small-scale property developer, found a lack of suitable accommodation for his family, he also uncovered an excellent opportunity for a high-quality sub-division project. Limited by his ability to access finance through traditional banks, Le turned to CrowdProperty for a reliable and knowledgeable source of financial support.
Lack of homes creates development opportunity for Adelaide dad
Le is currently working on a 20-block sub-division housing project in the Adelaide suburb of Salisbury Heights. This project isn't just any ordinary development for Phi Le, but a personal undertaking motivated by the housing aspirations of his own family.
Le's children attend the local school in Salisbury Heights, but he was unable to find any houses in the suburb that fit the bill for his family. Many of the properties in the area are quite old, while the newer ones didn't match his criteria.
The area also suffered from a lack of available land, and the market was in general characterised by strong demand and low supply.
For this reason, when 20 blocks of land became available for development as a sub-division, Le saw this as an exciting opportunity to kill two birds with one stone.
He could undertake a high-quality residential project, while also providing foundations to build a home for himself and other families facing similar housing challenges.
As an eventual owner-occupier for one of the plots, Le shares the excitement of other buyers for the project.
"These people are emotionally invested in these blocks," Le said. "It's an area where they want to move in and live in — not a stepping stone for their next house.
"It's going to be their dream home for at least the next 10 to 20 years when the kids go to high school."
Bank loans difficult for larger developments
While Le has long made use of bank loans to fund smaller one-into-two projects, he has often run into difficulties as soon as projects expand to the three-to-four threshold.
"Once you hit the three-to-four division, it gets into a different space, because they classify it as commercial," Le said. "It becomes a lot harder — they need track records, they need pre-sales and a whole stack of other requirements."
"The processing time for banks also becomes a major problem at this point — it can take two months before they're even looking at a deal, and by then it's too late.
"That's a key pain point with traditional lenders."
Le finds a trusted financial partner in CrowdProperty
Le instead opted to seek funds from CrowdProperty — a marketplace lender that specialises in the financing of high-quality residential projects.
CrowdProperty's specialist knowledge of the property sector enables it to serve as a supportive and trusted financial partner for small-scale developers like Le.
"It's been absolutely phenomenal [working with CrowdProperty] — I have to honestly say it's a different experience from what I've ever had with the other lenders," Le said.
"From the get go, we had a face-to-face chat in Adelaide. It wasn't a sales pitch, it was about answering questions and actually supporting me in the development stage.
"When I was going through a few issues with my money partner, the CrowdProperty team was on the phone every day helping me find a solution. A bank would just shrug their shoulders and say 'next time' — they treat you like a number — whereas the CrowdProperty team looked at how they could help me solve the challenges and get the project up successfully. Who does that?!
"That was the main difference — having someone who has your back through thick and thin."
CrowdProperty provides fast, simple and transparent property project finance for property professionals, learn more.