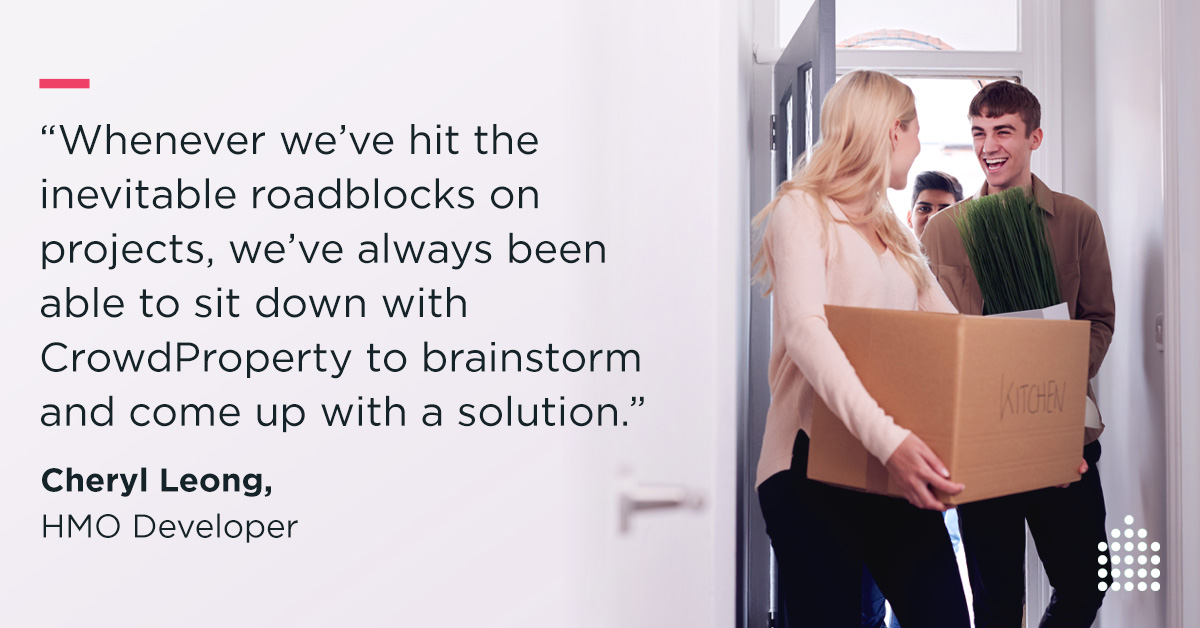 Property investor and developer Cheryl Leong has turned to the development of co-living residential projects to create what she refers to as 'win-win-win' projects. Her co-living developments capitalise on opportunities created by the surging demand for high-quality, affordable accommodation in Melbourne, providing a sense of connectedness and community in a co-living setting, and an excellent return for investors. CrowdProperty played an instrumental role in her latest project, providing not just financing but also guidance and support in understanding of the challenges of co-living development.
Melbourne's tight rental market creates opportunities for co-living
Co-living arrangements, also known as rooming houses in Victoria, are seeing rapid demand from tenants in Melbourne, due to both pressures on the rental market and rising demand from upcoming professionals in search of quality, affordable accommodation.
"There's a huge demand on the Melbourne rental market for co-living because of rising interest rates and the tight rental market," Leong said.
"Young professionals want high-quality rental accommodation which is affordable, convenient, and close to work."
Leong's co-living project in the Melbourne suburb of Glenroy caters specifically to this segment of the market.
"We have a project in Glenroy on Becket Street that consists of two side-by-side rooming houses, each of which contains six individual rooms," she said.
"It was originally a normal residential house, but that's been knocked down to make way for two completely new dwellings that are each individually titled.
"While the houses look just like any other home on the street, we can rent out each of their rooms individually. They will be fully furnished and equipped with their own en suites, with the rent for each room expected to be approximately $300 a week."
Each of the houses also come equipped with the shared areas that are part of standard residential homes, including a full kitchen as well as living and dining spaces that cover at least 50 square metres.
Co-living developments a lucrative opportunity for investors
In addition to helping solve the lack of supply and unaffordability in Melbourne's rental market, Leong says that co-living projects can be a lucrative source of returns for real estate investors. This is particularly the case when they increase the density of existing residential areas by making more efficient use of available land.
"Land in Melbourne isn't cheap anymore — you might have a piece of land that's anywhere from $800,000 to $1,000,000," she said.
"The way we've done it — building two rooming houses on a single piece of land, makes the project a far more affordable choice for investors, and translates into a better return on investment."
CrowdProperty provides supportive finance where traditional lenders fall short
While co-living arrangements are starting to see rapid growth in Australia, Leong says small-scale developers still struggle to obtain adequate financial support from traditional lenders such as banks, who are unfamiliar with the potential and risk profile of co-living assets and developments.
"The traditional lenders don't know how to wrap their heads around it," she said. "They don't know how to value the product and see a lot of risk in it, because they assess it in the same way as a standard residential home.
"They don't look at it from a commercial perspective, or as a property with greater diversification of risk."
As a specialised marketplace lender, CrowdProperty provided Leong with ample financial support, from a team of property market veterans who fully appreciated the nuances and value proposition of her project.
"CrowdProperty understood the concept of co-living — that was the main thing," she said.
"We have a really good collaborative partnership — they're only an email or call away if we need their feedback or advice.
"For this reason, whenever we've hit the inevitable roadblocks on projects, we've always been able to sit down with CrowdProperty to brainstorm and come up with a solution.
"For example, our Becket St project suffered inevitable delays through the pandemic lockdowns and recent supply chain issues and when our loan term ended, we were able to refinance and we even got some money back as the valuation had improved in the interim. The team at CrowdProperty had the solution in place and completely understood our project challenges.
"We're now financing a second co-living project with them which is live and funding now." [December 2022]
CrowdProperty provides specialist property project finance with speed, ease, and certainty. Learn more.