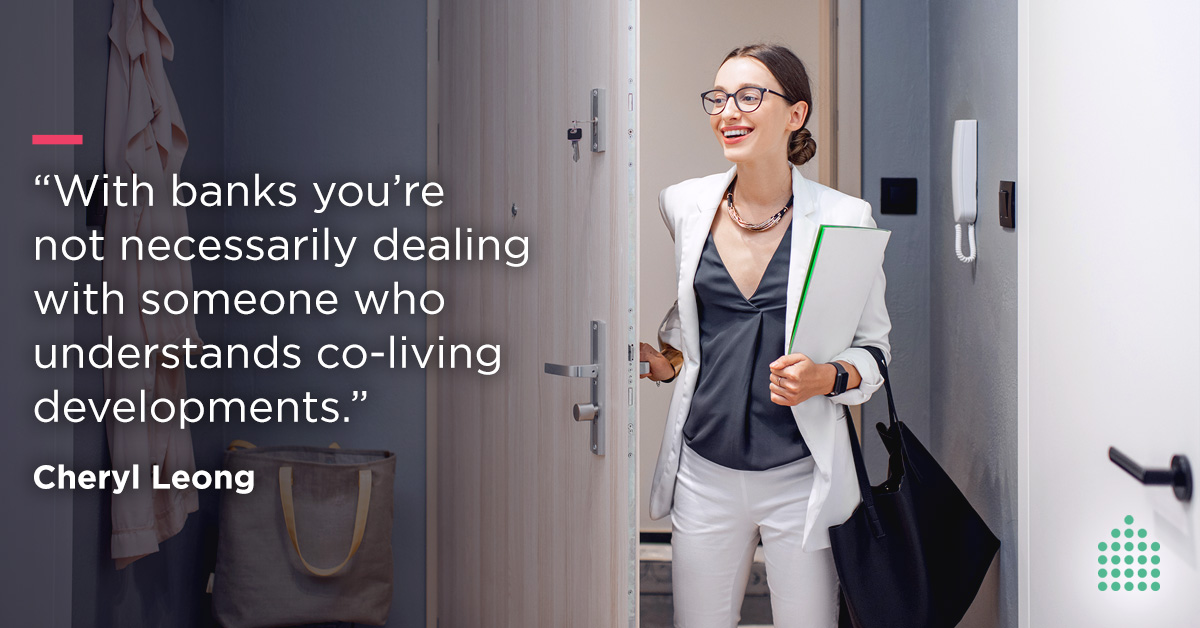 With the rising popularity of co-living arrangements in Australia, we explore the factors critical to the success of these developments.
Houses in multiple occupation (HMO) could soon see rapid growth in Australia's major cities, after first achieving widespread popularity in the UK market.
HMO's are similar to the traditional sharehouse, but cater to a more upmarket demographic of affluent professionals. For this reason, they tend to be of higher quality, as well as feature self-contained en suite living quarters.
Key drivers for their popularity include worsening home affordability in inner-city areas, as well as changing lifestyle preferences.
For small-scale developers looking to explore this growing opportunity there are a number of contributing factors to be aware of including location, the lifestyle preferences of target demographics, and access to finance.
Be aware of the needs of young professionals
While co-living arrangements appear to have much in common with the traditional share house, developers need to be aware of the differences between the two, especially with regard to quality expectations.
The share house has long been associated with younger Australians on lower incomes, who require cheaper accommodation as they pursue study or enter the workforce.
Developers should realise that co-living arrangements have strong market appeal for affluent urban professionals looking for downtown residences that are affordable yet high-quality.
These professionals are also looking for privacy and a sense of independence, which is why co-living arrangements so often provide self-contained living quarters with their own toilets, en suites and kitchenettes.
Choose the right area
Developers need to do their research to understand which areas are most suitable for co-living arrangements, in terms of both pricing and proximity to professional employment opportunities.
In Australia, almost all the most popular hotspots for co-living arrangements are situated in the inner-city areas of major cities, or within close proximity to other business and commercial hubs.
According to a recent analysis from Savills, these include Redfern, Chippendale, Potts Point, Surry Hills and Newtown in Sydney, as well as Richmond, St Kilda, Brunswick, Hawthorn and Carlton in Melbourne.
Find trusted finance partners
Another important factor for the success of co-living property developments is access to finance, which continues to be a pain point for smaller developers poorly served by traditional lenders.
"Getting funding from the big four banks has been very difficult, even if you've got an excellent track record," said Cheryl Leong, chief impact officer at co-living property developer Big Impact Group.
"There are lots of hoops to jump through with the banks - they've got enough on their balance sheet, so they don't have a need for developers."
As a consequence, smaller developers are increasingly turning to the private credit market, and finding success with specialised marketplace lenders.
Marketplace lenders such as CrowdProperty not only provide faster access to funds, they can also serve as knowledgeable financial partners who build supportive relationships with borrowers.
"With the banks you're not necessarily dealing with someone who understands the intricacies of property development," Leong said.
"One reason a lot of people are going to the private lending space is that there is more of a relationship building connection with people who've done this before."
As a marketplace lender with deep expertise in residential property, CrowdProperty specialises in solving the financial pain points of small-scale developers and building partnerships with them.
CrowdProperty provides fast, simple and transparent property project finance for property professionals, learn more.