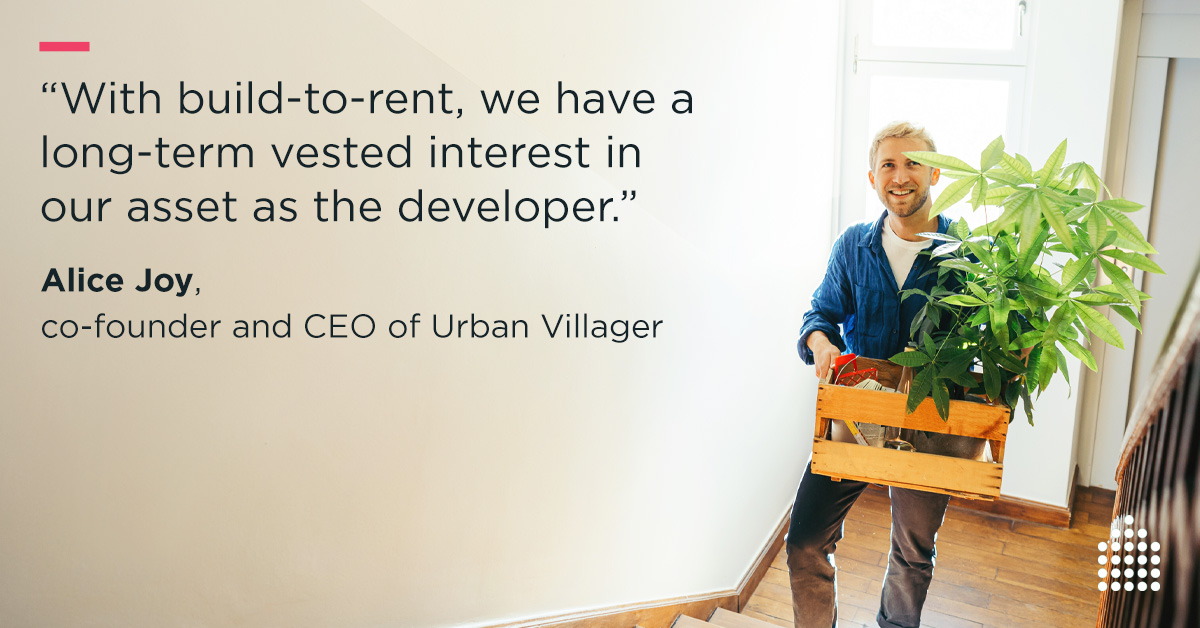 The build-to-rent market is emerging as a key growth area for the Australian property sector, as home affordability worsens and the lifestyle and work preferences of everyday Australians undergo change.
While large-scale developers have long dominated the market, opportunities are arising for smaller developers to make lucrative inroads.
What is build-to-rent?
The build-to-rent model differs markedly from the traditional build-to-sell model that has long dominated the Australian property market, and involves the creation of houses or units which buyers themselves are likely to occupy indefinitely.
Build-to-rent instead caters more to investors seeking steady incomes in the form of rental streams. It involves the development of properties designed specifically for leasing to tenants, over mid to long-term periods, instead of for sale to owner-occupiers.
In the UK and the US, build-to-rent projects have generally involved the development of large-scale residential projects – usually in the form of high-rise apartment blocks. The developer then retains ownership of all these apartments, and puts them on the market for long-term rent.
Alice Joy, co-founder and CEO of Urban Villager, said that different incentives for build-to-rent as opposed to build-to-sell can lead to the creation of higher quality outcomes when it comes to rental housing.
"With build-to-rent, we have a long-term vested interest in our asset as the developer," Joy said.
"This helps us to spend more on the design and construction phase because the split incentive is removed when the developer has a vested interest in the building long-term.
"At the end of the day, the tenants are going to be clients, so the whole ethos is not what can we build to sell per square metre for the highest possible rate. Instead, it's wanting people to lead a great life here, and for our tenants to be happy and fulfilled."
The Australian build-to-rent market
While still immature compared to the US and the UK, the build-to-rent market has become increasingly popular in Australia due to worsening home affordability which has prompted more and more Australians to rent. This is especially the case for the inner-city areas where economic and employment opportunities are concentrated.
As of 2021, 31% of Australian households were renters, according to figures from the Australian Institute for Health and Welfare (AIHW). During the period from 1994 to 2020 the percentage of Australian households renting from private landlords increased from 18.4% to 26.2%.
Rob Flux, developer and educator from the Property Developer Network, says that worsening home affordability has led to creation of several key demographics for the build-to-rent market in Australia.
"There's probably four or five key niches, each of which has its own type of product," Flux said.
"Blue collar workers living near to industrial areas is one niche, and another niche is white-collar professionals in the CBD, in particular the mid-twenties crowd that want their independence from home, but haven't quite made it just yet.
"Another big niche is older single women, who are either divorced or widowed, and whose income streams are modest."
Alice Joy said that increasing interest from institutional investors has also helped to drive growth of the Australian build-to-rent market.
"A few years ago build-to-rent wasn't an asset class that was deemed to be 'investible' in Australia," Joy said. "That's really changed over the last couple of years.
"There have been some big funds that have shown interest in build-to-rent, and that is often what leads the market to form up and become something 'investible'.
"The big end of town is looking to build-to-rent as an asset class, which actually does help smaller developers because it becomes a known quantity with some rules that we can just plug into."
Joy said that the growth of build-to-rent could help Australia to deal with the challenges faced by its housing market, by expanding the availability of alternative forms of accommodation. This is particularly the case for in-fill development and renovation of existing housing stock.
"We have such a huge housing crisis in Australia, that the more opportunities and the more diversity we can get into the market the better," she said.
"We need people to have options — we have a lot of existing stock out there and renovating those properties for build-to-rent purposes is an excellent solution."
Opportunities for small developers
Build-to-rent has traditionally involved large-scale developers building and retaining ownership of large-scale apartment complexes for long-term leasing purposes. The business model has since changed, however, to include alternative approaches better suited to small-scale developers.
A key example of this is the concept of co-living arrangements, also referred to as houses in multiple occupation (HMO).
Co-living developments are similar to the traditional sharehouse much beloved of students and recent entrants to the job market, but instead cater to a more varied or upmarket demographic of tenants. HMOs usually involve the development of houses that are divided into single-room self-contained units, each with their own kitchen and bathroom facilities. At the same time, they still feature communal areas that are shared by all tenants.
For small-scale developers, co-living developments are an excellent means of entering the build-to-rent market. Instead of the construction of high-rise apartment buildings, HMOs often involve the creation or conversion of small-scale houses with self-contained rooms that are suited to co-living arrangements.
Flux points out that HMOs can achieve highly lucrative outcomes for existing houses in established suburban areas.
"[HMO] typically sit somewhere between the $200-$300 per week rental market, and in Victoria you can fit up to nine units in a single house without any development approvals," he said. "That can end up being quite a lot of revenue."
Financing still a challenge
While build-to-rent is becoming increasingly viable thanks to interest from big institutional investors, traditional financial institutions still do not fully cater to the needs of these developments.
"With build-to-rent developments, the asset is considered less liquid because there are fewer buyers for such a big thing," Joy said.
"You're looking more likely at a 50-60% loan-to-value ratio. This means that developers need to leave a lot more equity in their projects, which can be a bit of a challenge."
Specialised marketplace lenders like CrowdProperty can help to address the financial challenges of smaller build-to-rent developers, by acting as long-term partners with a deeper understanding of their needs.
"It's of critical importance to find the right funding partner," Joy said. "It requires a lot of understanding and ability to deal with challenges as they arise, so you need to be able to have open and honest communication with your funding partner.
"Not all lenders are like that, so it really pays to vet the ethos of your lending partner up front."CrowdProperty Australia works with developers to fund multiple project types, including build-to-rent, co-living / HMO, and modular developments. Apply here for project finance.
Contributors
Alice Joy BA, LLB(Hons), GDLP, MWell(DA) — CEO and Co-founder, Urban Villager
Alice is a lawyer, wellness expert and impact real estate developer committed to triple-bottom-line outcomes. As the CEO of the Urban Villager Group, Alice is well versed in all aspects of property, including capital raising, market research, creative acquisitions, site selections, wellness and marketing.
Rob Flux is the owner and founder of Property Developer Network, the largest national network of novice developers and renovators in Australia with a combined community of over 15,000 people.