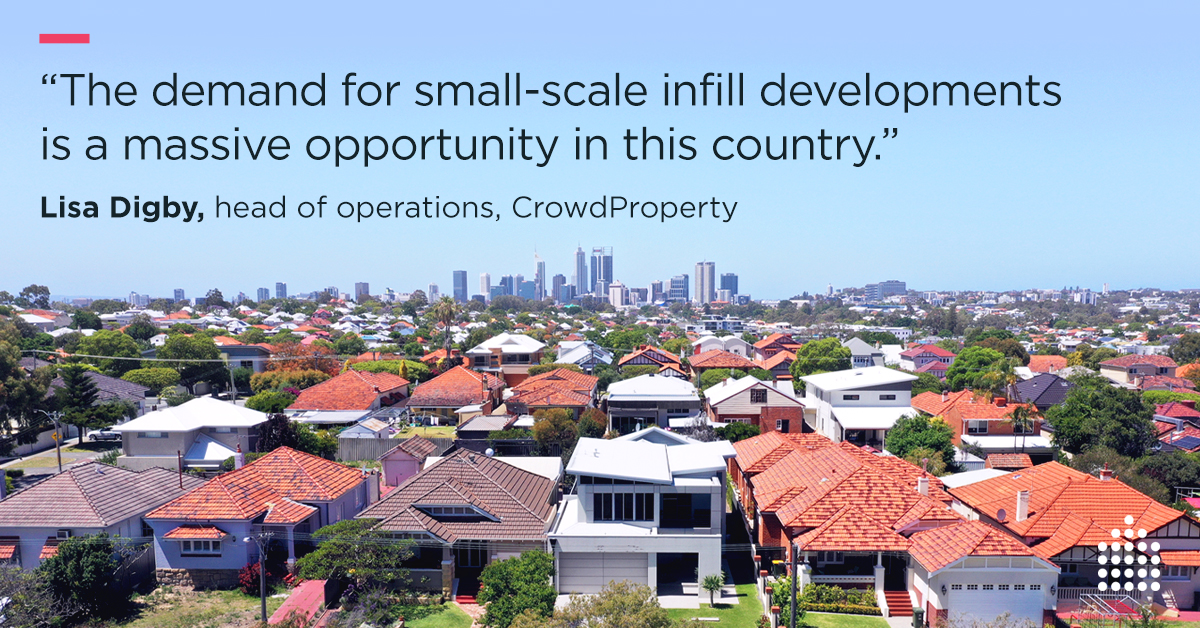 Australia's housing shortage is on track to worsen as the property sector struggles to provide adequate supply in the wake of the Covid pandemic.
This shortfall could create an abundance of opportunities for small-scale developers, particularly with regard to infill developments in established suburbs and precincts. Developers will only be able to capitalise on these opportunities if they're both supported by council and can obtain adequate financing from lenders amenable to their needs.
NHFIC says housing shortage to worsen
The National Housing Finance and Investment Corporation (NHFIC) highlighted the severity of Australia's housing shortage in its latest State of the Nation's Housing 2022-23 report.
According to the report, Australia currently suffers from a shortfall of 331,000 affordable and social housing homes, while the homelessness housing shortfall stands at 46,500.
This is expected to worsen with an acceleration in household formation following the reopening of Australia's international borders.
NHFIC anticipates a supply shortfall of 106,300 dwellings over the five years to 2027, meaning Australia will essentially be "going backwards" by 21,260 homes a year.
The report expects apartment and medium-density delivery to be an area of particular weakness, dropping to 40 percent below 2010 supply delivery
Maxwell Shifman, president of the Urban Development Institute of Australia (UDIA), said the supply and affordability challenges of the Australian housing market will become increasingly difficult to remedy unless properly addressed in advance.
"The report confirms that the housing market is in steep decline with a shortfall of 106,300 at-market houses by 2027 as well as the 377,600 shortfall of homeless affordable and social housing," Shifman said.
"Combined with escalating price increase makes it increasingly difficult to turn around."
Suburban infill development a potential solution
Conventional housing policy has long focused on the creation of large-scale greenfield developments and high density apartment towers to remedy shortages in housing supply.
Lisa Digby, head of operations, CrowdProperty, said the other part of the solution to Australia's current home shortage lies within low and medium density infill developments that permit a more efficient usage of existing infrastructure and amenities in established urban areas.
"We've hit a crunch point right now where we have a rental crisis and not enough housing stock available for people to buy," Digby said. "More infill development can be a part of the solution."
Compared to greenfield developments created from scratch, Digby points out that infill development offers the advantage of pre-existing infrastructure and communities, as well as proximity to commercial centres where business and job opportunities are concentrated.
"One of the reasons infill development is so important is it creates more housing supply situated close to places of work, close to transport and infrastructure, as well as close to key lifestyle amenities. People want to be close to family and friends and the places they know," she said.
"There needs to be that balance between greenfield development and brownfield development."
Smaller scale infill development can provide greater diversity and choice in housing supply to cater to the varied needs of different demographics in urban areas, Digby added.
Reserve Bank economist Tony Richards said in a recent op-ed in the Australian Financial Review that home building has slowed significantly over the past two decades. This, he said, is largely due to prime residential real estate being restricted to single homes, developers facing long and expensive applications, and legal disputes with existing residents.
"The upshot is that the important tasks of home building and modernising our cities have become heavily reliant on individuals and firms whose main skill is navigating the development approval process and influencing local and state government officials to try to ease constraints on what can be built."
Opportunities for infill development abound
David Ingram, CEO and co-founder, CrowdProperty Australia, says for those who can navigate the development approval process, there exist ample opportunities for infill development in the country's urban centres.
"We are not waiting for layers of governments' to resolve the planning red tape," Ingram said.
"Instead, we are backing property projects ready to start construction on existing sites."
"Here in Sydney, everywhere you look you can see opportunities for infill developments that make use of existing infrastructure."
According to Ingram, Sydney is starting to see rapid growth of infill development, particularly along new transit corridors that pass through established suburbs.
"The massive growth area in Sydney is out through the south-west and north-west where the developments are happening," he said.
"We're certainly seeing that in terms of project loan applications coming from the infill side, in areas which are becoming more attractive to live in because they've already put in the infrastructure in terms of rail corridors, roads and tunnels."
"We're also starting to see a lot of applications come in from western Sydney, with the infrastructure development there for the new airport."
Lisa Digby said the demand for small-scale infill developments is a big opportunity.,
"The consumer is demanding more choice in housing such as low-rise apartments, townhouses, duplexes, and co-living arrangements," she said. "Small-scale developers have the greater agility needed to work on these projects, don't have the overheads, and are therefore well positioned to undertake infill projects."
Finance remains a challenge for property development
Difficulty accessing finance remains one of the key factors behind the shortfall in Australian housing, with developers struggling to obtain adequate support from traditional lenders. These financing challenges have worsened with rising interest rates, threatening to further exacerbate Australia's housing shortage.
"Our recent survey of small-scale developers indicates it's becoming harder to get finance," Ingram said. "When we asked developers why they weren't building more homes, the number one answer was access to debt capital."
This problem is especially acute for the types of small-scale infill developments that could play a key role in solving the housing shortage of inner-city areas.
"It's widely known that big banks often won't look at small-scale developers," Digby said. "Small-scale developers don't fit into what they offer in standard residential mortgage lending or commercial lending because of the short term nature, loan size, and level of complexity required to underwrite.""
Specialist marketplace lenders like CrowdProperty can play a vital role in resolving the funding challenges of small-scale property developers by providing a team of seasoned experts who are better able to cater to their financing needs.
This can, in turn, empower small-scale developers to capitalise on the opportunities for infill development in major urban centres, helping to alleviate Australia's home shortage crisis.
"We have a team who are property people, and have expertise and experience in this space," Digby said. "We can do the due diligence on these projects to see whether or not they stack up.
"We understand small-scale developers and their projects, and we can help them throughout each stage of their development as the project progresses.
"We definitely see there's a gap in the market for this sort of financing, and it's really important that a key part of our value proposition is the way we work with those developers and do our part in helping housing supply and choice"
CrowdProperty provides fast, simple and transparent property project finance for property professionals, learn more.