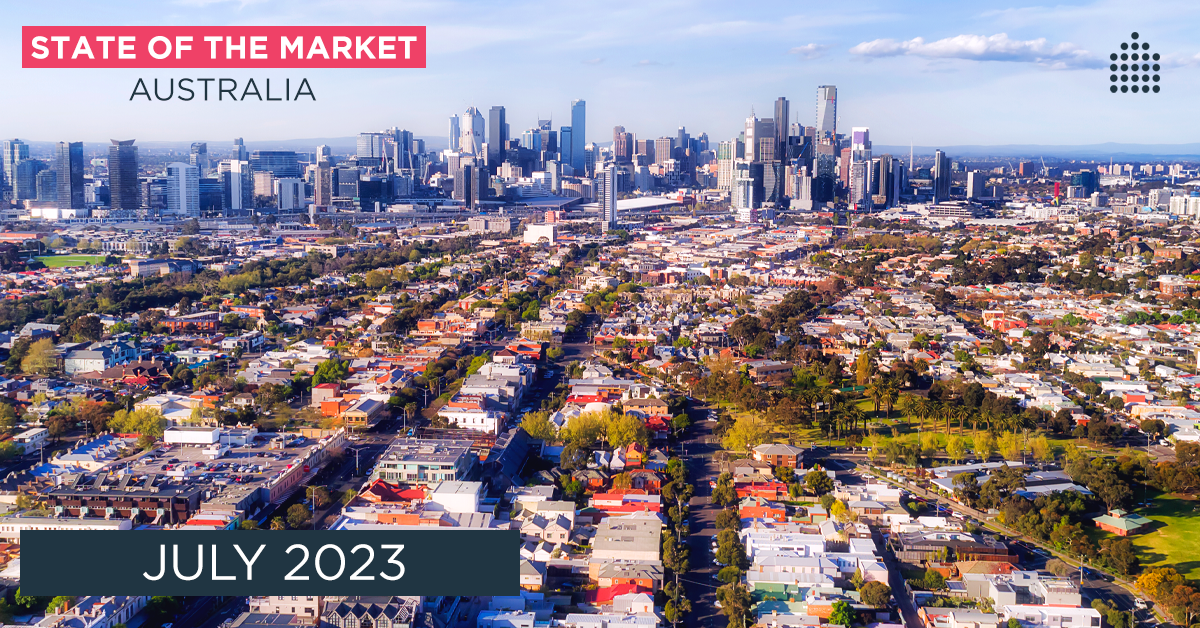 Australia's housing market continues to stage a gradual recovery, with home values posting a modest gain in June for their fourth month of growth. Pressure on home prices may find further respite from the Reserve Bank of Australia's (RBA) decision to pause rate hikes in July, potentially paving the way for a recovery in the market by the new year.
Australian home values notch fourth month of growth
Housing prices in Australia posted their fourth month of growth in June, extending their recovery from the slump caused by hawkish monetary policy last year.
CoreLogic's national Home Value Index (HVI) saw an increase of 1.1 percent in June, a slight deceleration from growth of 1.2 percent in May.
With the exception of Hobart, all of Australia's capital cities posted growth in dwelling prices in June. Sydney saw the biggest increase, with a 1.7 percent rise that drove growth in the city's median housing values by around $4,262 a week.
Tim Lawless, CoreLogic's research director, said lack of supply remains the chief driver of growth in Australian dwelling values. New capital city listings through June were nearly 10 percent below the previous five-year average, while total inventory levels are over a quarter below the average.
The HVI has risen by 3.4 percent since tapping a bottom in February, yet still remains 6.0% beneath the peak value it breached in April 2022.
Lisa Digby, head of operations for CrowdProperty, said the supply of new homes in the market falls well short of where it needs to be.
"We simply aren't building enough homes to meet current demand," Digby said.
"With the added pressure of stronger migration volumes, house prices are defying expectations and rising, while tenants are likely to face the continued strain of higher rental prices and limited availability of rental properties."
Reserve Bank of Australia holds off on rate hikes
Markets breathed a sigh of relief on 4 July when the RBA announced it would hold off on hiking rates this month.
The RBA's cash rate target currently stands at 4.1 percent - an increase of 400 basis points since April 2022 - when the current cycle of hikes first kicked off.
This sharp rise in interest rates has hit the property market especially hard, given the dependence of buyers on mortgage borrowing from banks to fund home purchases.
While RBA's pause on rate hikes may give the market some respite, many observers anticipate further increases before the current round of hikes comes to an end.
The bond market has raised its forecasts of the RBA's peak cash rate, pricing in an eventual rise to 4.71 percent compared to a prior forecast of 4.6 percent. If bond traders prove correct, this means the RBA will need to implement at least two or three rate hikes, for a cumulative increase of 0.6 percentage points.
This will put even greater pressure on the property market and mortgage borrowers, with interest charges on their home loans becoming even more burdensome.
Opportunities for buyers lie in wait
Rob Flux, developer and educator from the Property Developer Network, is more optimistic about Australia's monetary policy outlook, particularly given easing inflation and the adverse public reaction to the RBA's recent decisions.
"My gut feeling is that inflation is starting to come back under control," Flux said. "I think they will just let it reach a natural equilibrium and take a slow and steady path from here."
For this reason, Flux anticipates a strong rebound for the Australian property market in the near future, particularly given the underlying fundamentals of strong, immigration-driven demand and lagging supply growth.
"[The market] is poised to skyrocket in the not-too-distant future – probably by the new year," Flux said.
"While it's still early days for recovery to show, you want to start to buy now and buy well. You may pay a higher interest rate, but interest rates will soon be backing off, and it's really a matter of capturing those costs in your feasibility studies right now."
With the continued tight labour market conditions there are still challenges to getting projects off the ground, but there are signs that projects will start to become feasible.
CoreLogic construction cost estimation manager, John Bennett said while the national annual growth rate remained high at 8.4%, it was an improvement on last year's 11.9%, which was the largest annual index rise on record
"The latest index figures will bring some comfort and reassurance to the beleaguered building and construction industry as we've seen two consecutive quarters of growth more in line with long-term averages."
CrowdProperty provides fast, simple and transparent property project finance for property professionals, learn more.