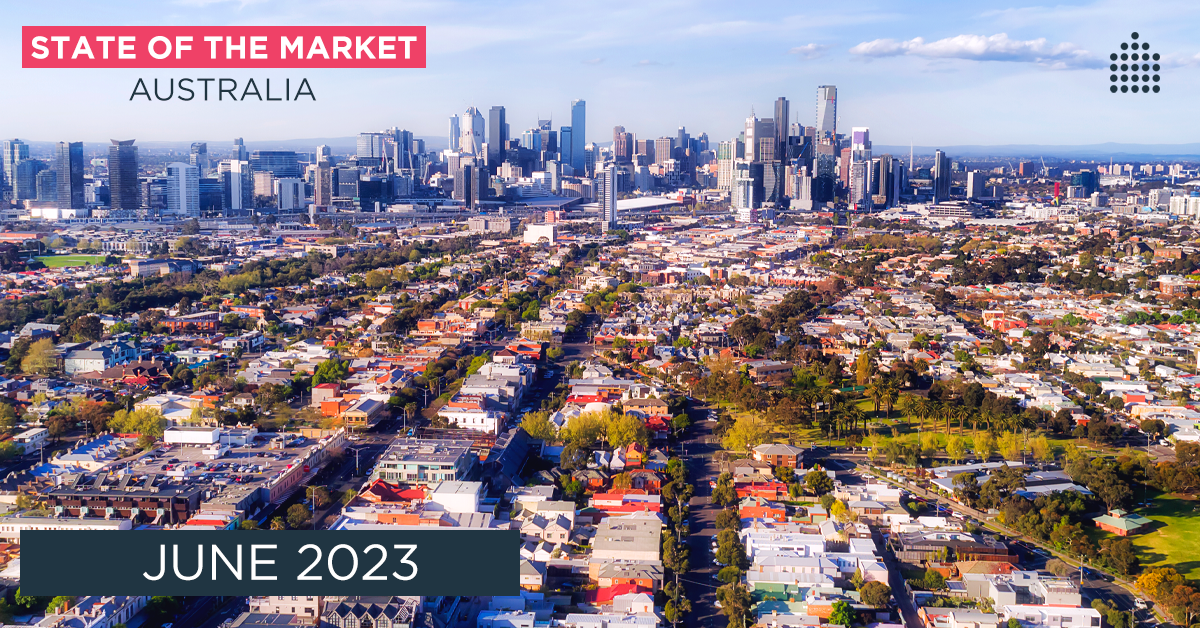 The Australian property market saw an improved recovery in May, after staging a tentative return to health at the end of the first quarter.
While the Reserve Bank of Australia (RBA) resumed rate hikes, demand in the housing market is likely to remain strong and rents are on track to keep rising.
Australian housing values post robust growth in May
Housing values saw accelerated growth in May, despite a shock response from the press and general public to the RBA's resumption of rate hikes.
CoreLogic's Home Value Index rose 1.2 percent in May for its third consecutive month of increase following the property slump that commenced in 2022.
It also marks a sizeable acceleration compared to the rises of 0.6% and 0.5% seen in March and April and is the strongest monthly growth figure since November 2021.
Sydney led the pack with a 1.8 percent rise in dwelling values in May, and the city's largest monthly rise since September 2021. Brisbane and Perth both saw increases of more than 1.0 percent, with home values in those cities up 1.4 percent and 1.3 percent respectively in May.
CoreLogic data further indicates that national home values have seen an increase of 2.3 percent in the three months to May, marking an acceleration of 1.3 percentage points compared to quarterly growth of just 1.0 percent for the previous month.
Growth in rent values has eased beneath the double-digit threshold, yet still remains at high levels, coming in at 9.9 percent for the 12 months to May.
CoreLogic's research director, Tim Lawless said the recent run of rises in home prices was the result of limited housing supply in tandem with rising demand as international borders re-open.
"Advertised listings trended lower through May with roughly 1,800 fewer capital city homes advertised for sale relative to the end of April. Inventory levels are 15.3 percent lower than they were at the same time last year and 24.4 percent below the previous five-year average for this time of year," he said.
RBA maintains rate hikes
The RBA's decision to persist with further rate hikes has the potential to create headwinds for Australia's housing market recovery.
On 6 June the RBA unveiled a 25 basis point hike to its target rate. The second consecutive increase after a one-month respite in April. The RBA's cash rate target now stands at 4.10 percent - a rise of 400 basis points since May 2022 - making this the monetary authority's fastest tightening cycle on record.
Lowe has come under heavy fire from politicians and the press in the wake of the June rate hike, with Treasurer Jim Chalmers remarking that the increase would be "difficult to cop" for a lot of Australians.
Australians with an average loan could now find themselves paying an additional $1200 every month, according to estimates from financial comparison website Finder.
Lisa Digby, head of operations for CrowdProperty, said interest rate hikes will continue to hamper borrowing capacity for home buyers, and homeowners will continue to feel the pain in their mortgage repayments, particularly those that are coming off their low fixed rate terms.
"Despite interest rate rises, house prices are still buoyant in the market and don't seem to be slowing, with auction clearance rates remaining higher than expected and many properties selling at or above reserve prices," Digby said.
"Underpinning this is a very tight supply in housing — both in the rental market with vacancy rates remaining at record lows, and very low levels of stock being available to purchase.
"Combined with strong immigration numbers and building approvals at their lowest in a decade (ABS), the supply challenge has no foreseeable easy solution except simply to build more dwellings.
"While rising interest rates are impacting some feasibilities for small-scale developers, CrowdProperty is seeing a strong pipeline of activity through our platform with our biggest month so far in total project loan applications.
"With house prices stabilising or on the rise in most markets, our developer borrowers are seizing good opportunities for small scale projects in land subdivisions and infill developments.
"In this environment of chronic housing shortages, every new build counts."
Opinion
Rob Flux, developer and educator from the Property Developer Network, said the rise in interest rates is about to have a heavily negative impact on mortgage borrowers.
"There's going to be a whole bunch of people in mortgage distress very soon," Flux said. "The mortgage cliff is about to hit."
Given the strength of demand for scarce housing supply, Flux does not expect this to have an adverse impact on house prices.
"The prices are going to keep going up, even though there's a limited volume of buyers because of high interest rates," he said.
"The only thing the RBA can do is try to stop those prices going up by ratcheting interest rates again - so they're chasing their tail."
CrowdProperty provides fast, simple and transparent property project finance for property professionals, learn more.