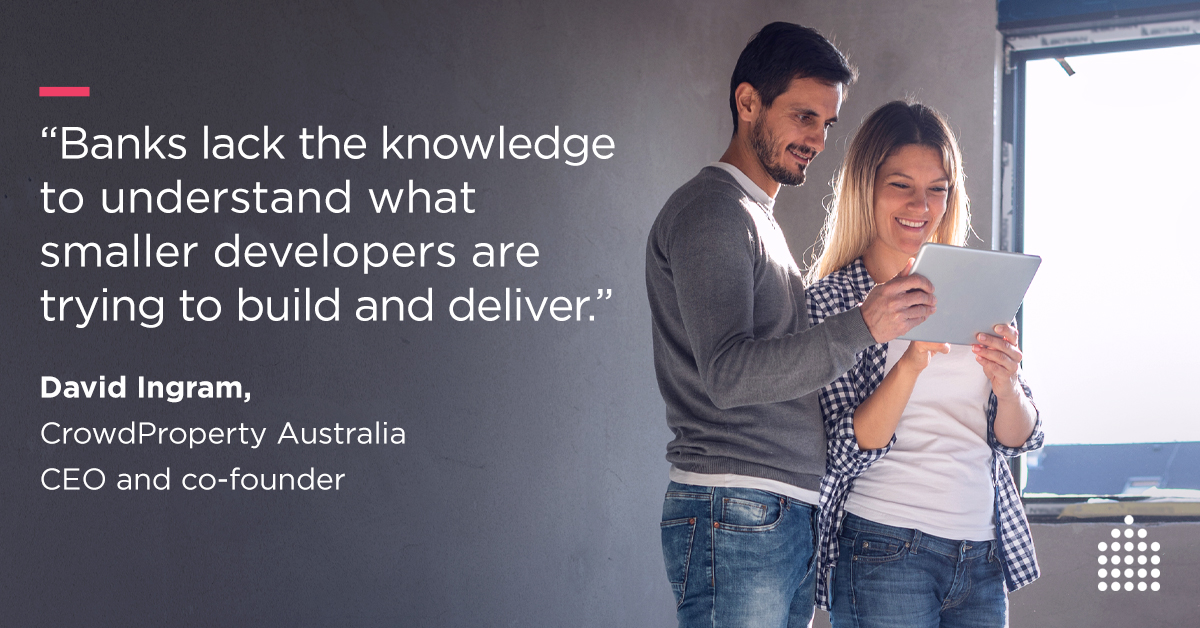 An increasing number of small-scale developers in Australia are turning to specialised marketplace lenders like CrowdProperty for their financing needs, instead of traditional banks who have failed to deliver the speed, expertise, and certainty that developers need.
The trend alongside the growth in other more traditional non-bank lenders could see marketplace lenders become increasingly influential players in the Australian financial sector.
Traditional banks fail to cater to developers' needs
Traditional financial institutions such as banks have long failed to provide adequate levels of service to small-scale property developers seeking funds for their projects.
This is due to established banks lacking specialised expertise and understanding of the property sector, CrowdProperty Australia CEO and co-founder, David Ingram said.
"They fundamentally don't understand property development," he said. "Banks are large organisations, so they need to be generalist by nature."
While banks are renowned in Australia for supplying finance to the property market in the form of mortgage loans, Ingram points out that this lack of knowledge means they are less willing or able to provide funding to the small-scale developers who actually create new dwellings.
"When it comes to the bread and butter of ordinary residential mortgages, banks are fine," Ingram said. "But if you're talking about anything beyond that — even renovation or construction finance — then it's outside their comfort zone.
"They lack the knowledge to understand what smaller developers are trying to build and deliver. They don't understand the risks or have the knowledge to mitigate those risks."
Lack of finance worsens Australia's housing supply crisis
The inability of banks to provide adequate financial services to developers isn't just affecting real estate companies, it's also exacerbating Australia's housing shortage by constraining supply growth.
"We know NHFIC and the government have a target of building a million homes in the next five years, and immediate targets of 30,000 for affordable homes," Ingram said.
"Banks need to play a part in funding this, but because they're not providing enough finance to small-scale developers, they're missing a key part of the market."
Why marketplace lenders provide better financial services to developers
Compared to banks, marketplace lenders like CrowdProperty are able to better cater to the needs of property developers because they possess specialised sector knowledge.
"Our proposition is really about property people lending to property people," Ingram said.
"Our business is made up of property experts, which means they conduct specialist due diligence, as well as provide niche expertise that helps the client deliver on their project.
"We understand what developers are trying to deliver."
The niche that CrowdProperty operates in also means it can provide faster and more flexible financial services to developers.
"We're smaller and more nimble, so we can get things done faster," Ingram said. "We can provide decisions within a day or two, as opposed to the larger banks, who can take three to six months to make a decision."
Will marketplace lenders become the lending alternative for small-scale developers?
The advantages possessed by marketplace lenders like CrowdProperty mean they could rapidly emerge as leading financial institutions, helping Australia overcome its housing shortage by providing smaller developers with improved access to funds.
A pivotal advantage is the combination of specialist expertise and CrowdProperty's proprietary technology developed over the last ten years.
This stands in sharp contrast to large-scale banks, which are often hampered by legacy technology and the exorbitant cost of existing infrastructure such as high street branches.
"We don't have a shareholder base to pay or branch networks to support," Ingram said. "This is what the technology gives you — greater efficiency, so we can pass more of the revenue back to investors."
Marketplace lenders could very well emerge as the banks of the future, leveraging expertise and technology to provide improved earnings and convenience to investors.