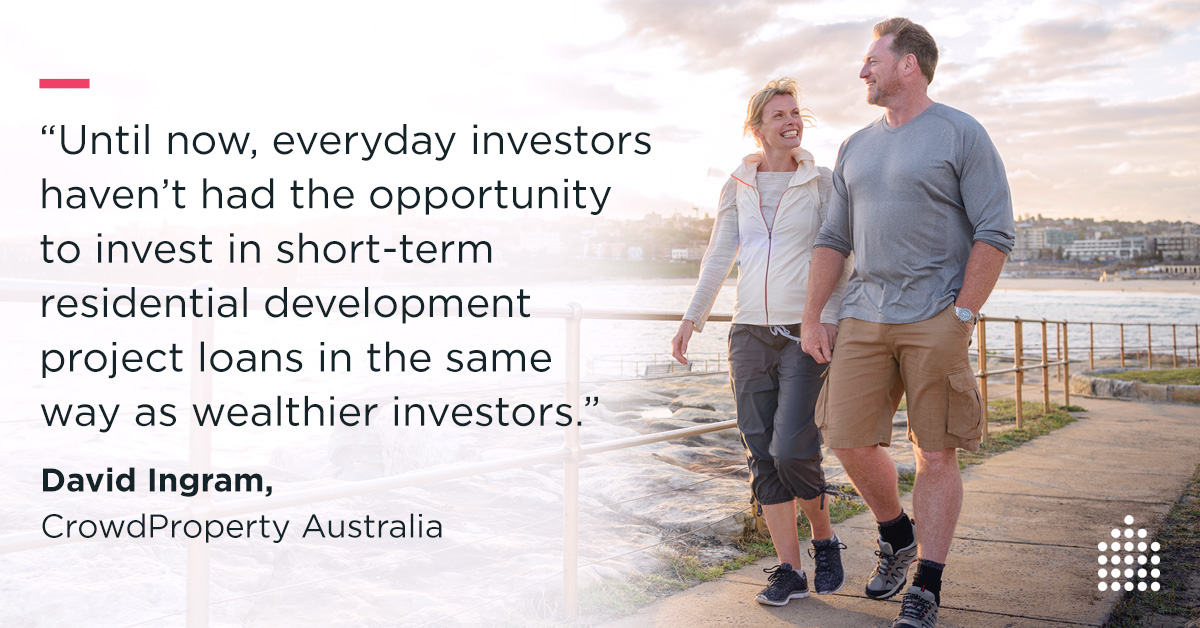 CrowdProperty, a specialised marketplace lender, is playing a key role in the democratisation of finance by using technology to make a property-related asset class more accessible to everyday investors (also called 'retail' investors).
Real estate, as a whole, is far and away the world's largest asset class, exceeding the combined value of all the stocks and securitised debt on the global market. Savills, one of the world's leading property advisors, estimates that the value of all of the world's real estate hit a record high of US$326.5 trillion in 2020, with residential accounting for 79% of this amount.
Real estate is certainly a desirable investment area for Australians, yet not all real estate-related asset classes are immediately available for retail investors. Private real estate debt, for example, is often an investment path that is generally open to wholesale investors only.
David Ingram, CEO and co-founder of CrowdProperty Australia, says that investment in project loans to finance small-scale developers has long been the preserve of established financial institutions or very wealthy individuals.
"Everyday investors just don't have the opportunity to invest in these types of project loans in the same way as high net-worth individuals and institutions," Ingram said.
CrowdProperty brings together a range of residential development project loans that have been curated and vetted by its specialist property team. It then gives investors the opportunity to invest modest sums in individual or multiple project loans, secured by first mortgage, by means of its online marketplace lending platform.
"Traditionally, you would need tens or hundreds of thousands of dollars to invest in this space," Ingram said.
"The benefit of the platform is that investors can invest comparatively modest sums in multiple project loans with first mortgage security.
"In Australia, you can put in as little as AU$2,500 into a project loan, and then repeat that across multiple loans, subject to loan availability, to diversify your portfolio."
While online technology is the key to making residential development project loans accessible to retail investors at affordable sums, Ingram says that the human expertise of the CrowdProperty team is also essential to ensuring the quality and returns of these investments.
"Our in-house specialist property team reviews every project loan application against a rigorous 57-step due diligence process," he said.
"We only finance approximately four percent of the loan applications we receive. "
Ingram believes the private real estate debt market in Australia is ripe for the type of financial democratisation that CrowdProperty has already brought to the UK.
"CrowdProperty offers target income returns backed by first mortgage security that can be an attractive addition to a diversified portfolio and may provide a hedge in these times of higher inflation," he said.
CrowdProperty Australia offers retail investors, (including individuals, SMSFs, trusts and companies), wholesale investors and institutional groups opportunities to invest in, residential project loans via its bespoke platform and in-house property development expertise. As a marketplace lending platform, it offers investors a way to earn up to 8.5% p.a. target income returns* on short term investments secured by first mortgage, typically due for repayment in 12 to 18 months.
Our UK sister company, which has lent over AU$536m over eight years, has a 100% record of returning capital and income to our investors, a record we've also continued here in Australia in our first 18 months.
*Target returns, not forecast returns or guaranteed returns. Terms, conditions, and risks apply.