The current state of the market
The southern hemisphere's winter has brought chills to the Australian property market, with housing prices declining across most major cities in month-on-month terms.
Five out of Australia's eight capital cities saw month-on-month declines in July, chief amongst them the major urban centres of Sydney and Melbourne, according to data from CoreLogic.
Sydney led on-month declines in home values with a fall of 2.2%, while Melbourne and Hobart shared second place, with both posting falls of 1.5%.
Brisbane entered negative territory for the first time in nearly two years with a 0.8% decline in home price values, while Canberra saw a fall of 1.1%.
In cities that did see on-month gains in housing prices, growth slowed sharply to well under a single percentage point. They included Perth, which edged higher 0.2%; Adelaide, with a rise of 0.4%, and Darwin, where housing prices lifted just 0.5%.
CoreLogic's national Home Value Index fell 1.3% in July for the third consecutive month of decline. Tim Lawless, Core Logic's Research Director, said that rates of decline are at their worst in decades.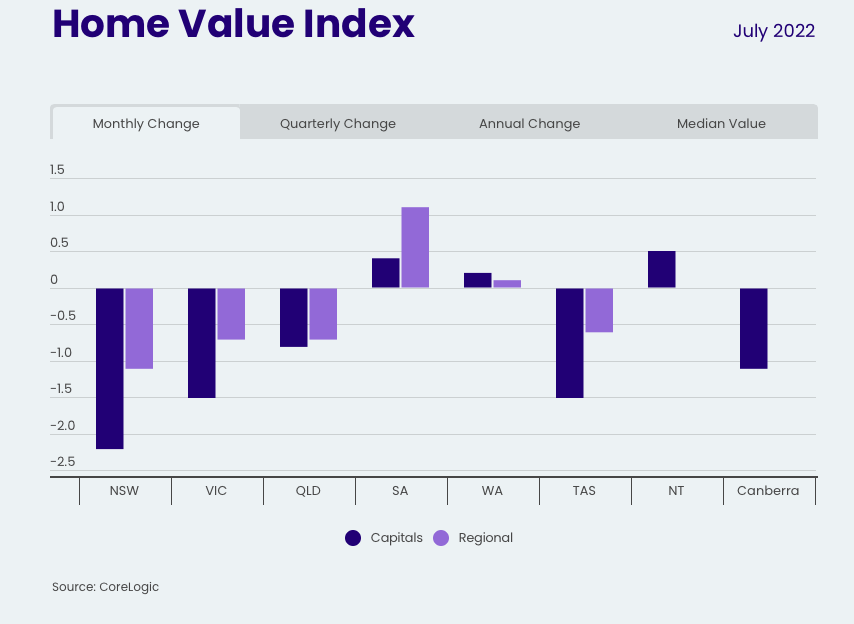 "Although the housing market is only three months into a decline, the national Home Value Index shows that the rate of decline is comparable with the onset of the global financial crisis (GFC) in 2008, and the sharp downswing of the early 1980s," Lawless said.
RBA set to continue tightening
A key driver of the weakening property market is changes in the monetary policy stance of the Reserve Bank of Australia (RBA). The RBA is now ratcheting up interest rates in order to combat the rampant inflation that has reached Australia's shores.
The RBA lifted its target cash rate by 50 basis points in both July and August, bringing it to 1.85%. The central bank has implemented four consecutive months of rate hikes, for a cumulative increase of 1.75 percentage points this year.

Australia's official inflation print came in at 6.1% for July, marking the fastest annual increase in over two decades, and giving ample prompting to the RBA for hawkish action.
Further hikes can be expected given the forecasts of the RBA and the Australian Treasury for inflation in 2022. The two bodies both expect annual consumer price inflation to peak at around 7.75% by the end of the year.
"The RBA is almost certainly going to raise interest rates again," said Rob Flux, developer and educator from the Property Developer Network.
"Their forward projections have pretty much said not if, but when and how much they are going to raise interest rates.
"I would hypothesise that there are going to be at least two and potentially even three interest rates before the end of the year, depending on how the market actually reacts."
This means further weakening of the Australian property market is highly likely, with regional markets anticipating variable responses to the RBA's monetary policy actions.
"Hikes in interest rates to offset inflation make it much harder to purchase homes, hence why the value of properties is starting to drop," Flux said.
"Each state is predicting slightly different variations on how much things will actually go backwards, ranging anywhere from five to ten percent."
Market downturn creates opportunities for developers
While the market downturn may be dismal in the short-term for property investors, Flux sees opportunities moving ahead, particularly when it comes to land negotiations.
"We are fast approaching a window for negotiating on very strong terms with landowners," he said. "They're seeing the market go backwards, and they don't know what's going to happen next.
"This creates an opportunity for us to negotiate very long settlement terms where we can potentially prop up the price of the property back to the previous high.
"This will be based purely on the holding cost savings that we would have by deferring the settlement to a later period of time."
Given the opportunities that could lie in wait, developers should start to look for property financing from a partner who is highly supportive and can fully understand their needs. As a specialised marketplace lender, CrowdProperty is ideally positioned to fulfill this role.
Our team is composed of property sector veterans who have a deep understanding of the residential development process. This enables us to best solve the financing pain points of smaller developers and provide thorough support that ensures the success of their projects.
CrowdProperty provides fast, simple and transparent property project finance for property professionals, learn more.
Contributors
Rob Flux is the owner and founder of Property Developer Network, the largest national network of novice developers and renovators in Australia with a combined community of over 15,000 people.