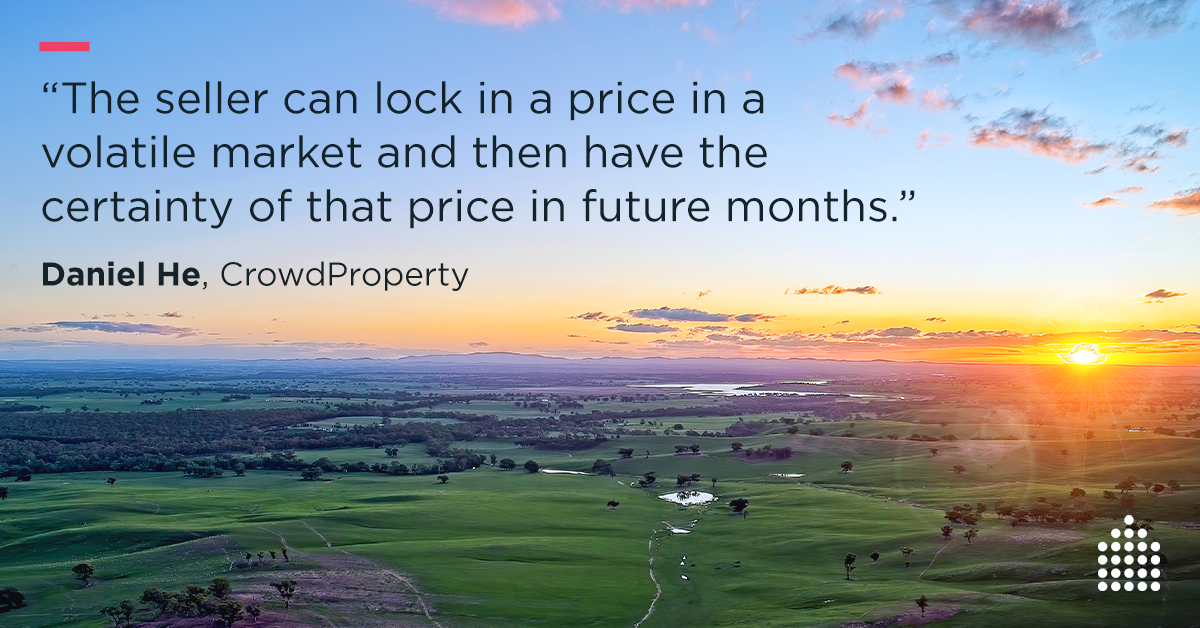 While the market downturn may be gloomy in the short-term for property investors, does it offer property developers a special opportunity?
Rob Flux, developer and educator from the Property Developer Network, certainly thinks so, particularly when it comes to land negotiations.
Commenting in CrowdProperty's State of the Market Property Report for August 2022, he said: "We are fast approaching a window for negotiating on very strong terms with landowners.
"They're seeing the market go backwards, and they don't know what's going to happen next."
ANZ economists are forecasting a dip in house values of between 15% and 20% by the end of 2023 on the back of surging mortgage rates and reduced borrowing capacity, before recovering in 2024.
Similarly, Reserve Bank of Australia governor Philip Lowe recently told a parliamentary hearing he wouldn't be surprised if Australian house prices drop by an average of 10%.
"This creates an opportunity for us to negotiate very long settlement terms where we can potentially prop up the price of the property back to the previous high," Flux said.
"This is based purely on the holding cost savings achieved by deferring the settlement to a later period of time."
CrowdProperty property director Daniel He, an active property developer who's been directly involved in over $45 million worth of property deals, agrees with Flux.
Vendors become more flexible
Daniel's finding that vendors are a lot more willing to negotiate longer settlement times in this market.
"This gives the property developer more levers to pull now compared with, say, six months ago where you might have been laughed out of the room if you didn't have a cooling off waiver and a 30-day settlement," he said.
"We are seeing settlements of three months, six months and even longer being commonplace. We're also seeing flexibility around things like early access for developers. Vendors are more willing to allow architects, builders, surveyors and engineers onto the site to do measurements before the settlement."
Another trend Daniel is seeing is lower deposits.
"Instead of a standard 10% deposit, vendors are open to conversations about lower deposits, depending on the state," he said.
"In New South Wales, lower deposits may probably not have been considered previously. In other states, which traditionally had lower deposits, we've seen them go lower still.
"This means there's less cash tied up. For example, if you can negotiate a couple of percentage points off your deposit and get a six-month settlement period, you have committed less to the deal and have a longer period to make things happen, giving the developer flexibility around cashflow."
A win-win situation
Daniel said it's not just about price, but about creating a win-win situation for the developer and landowner.
"The seller can lock in a price in a volatile market and the certainty of that price, say, in six months' time. If the vendor had waited in the hope of getting a better price in six months' time, the market may have fallen further."
But there are other benefits for vendors. For instance, they may not have found their next home or don't want to be rushed into a purchase. Or they may need time to sort through their financial affairs or their possessions if they are downsizing.
In the meanwhile, Daniel said with access to the site, developers could potentially have the planning approved before settlement if they have a very straightforward development.
At the same time, the value of the property, now combined with the planning approval, could potentially be worth more than they paid for it.
"At CrowdProperty, we value a property with planning approval at an uplifted price because the approval reduces uncertainty for us," Daniel said.
Doing the maths
Daniel provided an example of where a developer puts an offer down on a property that's worth $1 million, gets a six-month settlement and puts down a 4% deposit.
The developer now has $40,000 skin in the game and if he or she gets a complying development approval or certificate during the six months, the property would now be worth, say, $1.1 million.
From a finance perspective, it means CrowdProperty can potentially finance the development based on a property value of $1.1 million, not $1 million.
"That means the developer can do the deal putting down less cash and with more flexibility to do other deals," Daniel said.
Other benefits
There may be other advantages to having longer settlement times.
"A typical development might take 18 months, but now you can get started on the project without paying interest from day one," Daniel said.
"That allows you to get shovel-ready before the clock starts ticking on interest payments."
Daniel said there's also the potential to delay stamp duty, which can amount to 3% to 5% of the purchase price, depending on which state the project is in.
Also, given the current backlog in building projects, the developer may have more time to lock in preferred contractors. "At the moment, the various trades and consultants are very busy and might not be readily available for a project," Daniel said.
Plus, longer settlement times may give the developer time to lessen the impact of current supply chain problems and the surging prices of building materials.
They may also provide extra time to ride out the slump in the property market by completing the project in 2024, or later, when many economists expect the market to recover.
Daniel added: "They may also give a developer more time to look at various options for a particular site. There is more than one option that you can look at. Scenario one may be to demolish the house or two houses. Scenario two may be to retain and renovate the current house and build behind it.
"It gives developers time to examine the various options, giving them more time," he said.
Given this window of opportunity, it may also be worth lining up your finances and talking to us at CrowdProperty. Our team consists of property sector veterans who have a deep understanding of the residential development process and all its risks. We are well-placed to review your financing plans and provide thorough support that ensures the success of your projects.