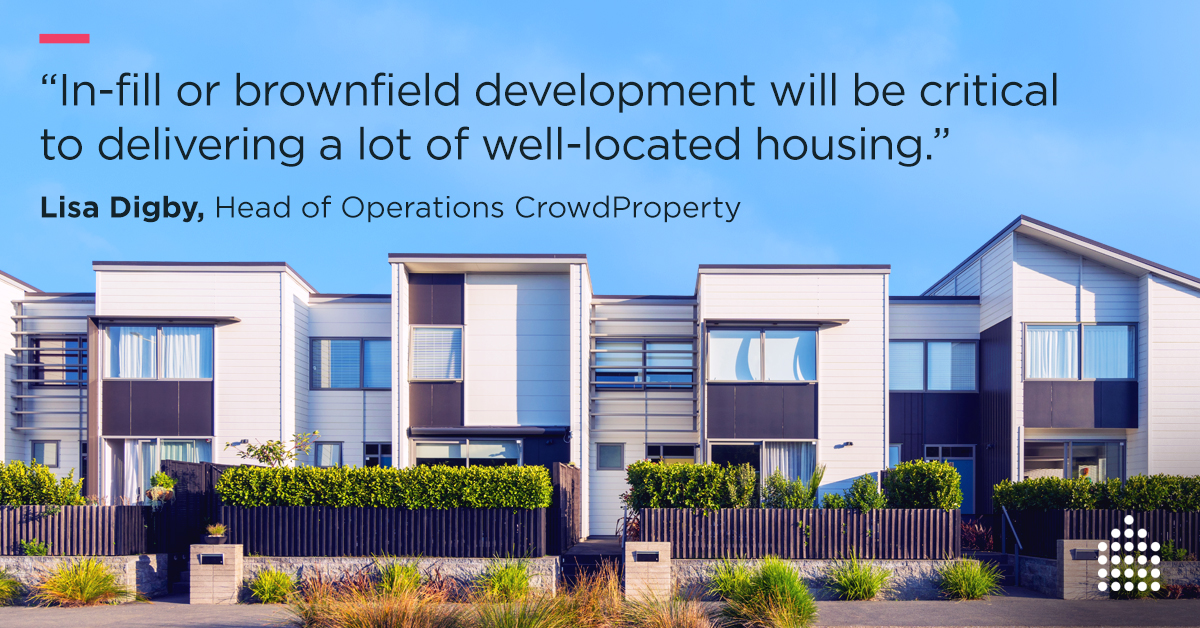 Planning changes are on the cards in states and territories across Australia, as policymakers seek to deal with a crisis in home affordability by paving the way for more medium and high-density developments.
These changes to planning regulations will create ample opportunities for small-scale developers who are perfectly suited to in-fill developments, as well as for investors in small-scale projects who seek to capitalise on growth in the housing market.
Albanese's 1.2 million new homes means more high-density
Since coming to office, the Albanese government has made it a priority to tackle the home affordability crisis. Most recently, the national cabinet unveiled plans in August to create 1.2 million new well-located homes around Australia over a five year period.
Given the target specifically points to the need for "well-located" homes, the plan will likely involve the creation of large volumes of new medium and high-density housing along key transport areas, as well as in-fill developments in established suburbs.
A shift towards increased density of housing is already apparent in the Australian market, despite the country's vast amounts of land. Figures from Master Builders Australia indicate 56 percent of the 240,000 new dwellings under construction at the end of March were higher density.
Shane Garret, chief economist for Master Builders, told Smart Property Investment an increase in higher-density housing is needed to bring relief to the Australian rental market.
"The sharp increase in higher-density home building and public sector home building is desperately needed at a time of severe rental accommodation shortages," Garret said.
Planning changes needed to satisfy target
In order to facilitate the creation of more in-fill developments, members of industry have highlighted the need for changes to planning laws at the local level.
Lisa Digby, head of operations, CrowdProperty, said this is especially important given the target from national cabinet calls for "well-located" homes. This means new housing supply will be situated in the types of established areas where strict planning laws often thwart new developments.
"State and local governments need to support what came out of national cabinet with better planning policy. Satisfying the target of 1.2 million well-located new homes will really come down to how state and local governments can respond by updating planning or rezoning for more land release."
Alan Wang, property developer manager, CrowdProperty, said that making changes to zoning requirements to enable the development of more well-located housing will be a lengthy challenge.
"Zoning changes will require a tremendous amount of time and effort, which government bodies in NSW at least have undertaken over the past several years," Wang said. "The process is very complex and includes consultation with multiple parties including communities, councils and significant landholders.
"We can't expect an overhaul of zoning in just a short amount of time."
Planning changes already afoot across Australia
Even prior to the release of national cabinet's ambitious housing target, local governments around Australia had already flagged changes to planning laws to pave the way for new home development.
On 20 September, just prior to the surprise resignation of Premier Daniel Andrews, the Victorian government unveiled a bold new housing package aimed at addressing the home affordability crisis.
The plan sets the goal of building 800,000 new homes over the next decade, as well as 2.24 million additional homes by 2051.
New planning controls are designed to bring a further 60,000 homes to 10 designated activity centres, including Broadmeadows, Camberwell Junction, Chadstone, Epping, Frankston, Moorabbin, Niddrie, North Essendon, Preston and Ringwood. The controls will include measures to incentivise affordable housing and provide guidance to infrastructure development.
In addition to building new homes, the Victorian government also hopes to convert existing buildings into new accommodation. It's reviewing a list of 80 buildings identified by the Property Council of Melbourne as being appropriate for conversion into 10,000 - 12,000 apartments.
In order to expedite the fulfilment of these targets, the Victorian government has introduced a raft of new measures to hasten the approvals process. These include the hiring of ninety new planners to clear a backlog of 1400 housing permit applications, and the introduction of new Deemed to Comply standards that permit more rapid assessment of homes.
Victoria will also launch new streamlined processes for the purchase and adaption of four- and five-storey projects by developers.
Single homes on lots smaller than 300 square metres will be able to obtain approvals in under 10 days, while the state government will remove permit requirements for granny flats or second small homes less than 60 square metres in area, and single homes on lots of 300 square metres or more with no overlay.
The NSW state government has indicated it is considering interventions in local zoning that will permit the creation of more terraces and manor houses, in order to expand the "missing middle" of Sydney's housing mix.
Sydney currently has bans on single buildings that contain three or four dwellings in one lot of up to two storeys across 85 per cent of low-density residential zones.
Speaking at the Property Council of NSW housing summit in June, state planning minister Paul Scully signalled efforts to remove these bans in order to expand domicile supply.
"Townhouses and manor homes are part of the history of Sydney, yet in many places they are being stopped from being part of its future," Scully said.
"Let's say we were able to put a semi on five per cent of the 85 per cent of zoned lots. That would deliver 67,500 new homes, which is more than 20 per cent of what we need to build by 2029."
The NSW government has also introduced a proposal to fast-track the approval of taller and denser buildings if they help to provide affordable housing.
Under the proposal, developments worth more than $75 million that make 15 per cent allocations to affordable housing will enjoy faster approval times. The developers of such projects will also be able to add 40 percent to the floor space to land size ratio, as well as increase heights 30 percent above the thresholds of local environmental plans.
Not far from Sydney, the ACT government passed the Planning Act 2023 in June, making considerable adjustments to the planning system for the nation's capital.
According to Clayton Utz, the changes streamline the development approval process and focus on an "outcomes-based approach" to planning.
The ACT is also noteworthy for its absence of detailed mandatory codes, with the government instead scheduled to provide related provisions in supporting documentation.
Alan Wang said improvements to planning pathways could help to expedite in-fill developments.
"The changes under discussion refer to better planning pathways," he said. "For example, capital investment of greater than $75 million could gain access to the State Significant Development (SSD) planning pathway, which technically bypass council involvement, even though council is still engaged as a main stakeholder."
Small-scale developers have a key role to play
The 1.2 million new homes target will bring ample opportunities for smaller developers, given it mandates the creation of "well-located" homes.
"Well-located homes" are likely to be situated in established areas with pre-existing amenities and transportation infrastructure. This favours the creation of bespoke in-fill projects that fit into the existing built environment, as opposed to greenfield developments built from whole cloth.
Small-scale developers are particularly well suited to these in-fill projects, as they possess the flexibility to deal with variable conditions already in place, and are more willing than their large-scale peers to pursue developments with more modest returns.
"In-fill or brownfield development will be critical to delivering a lot of well-located housing, especially in areas that aren't suitable for high rise projects but more suited to medium-density dwellings" Lisa Digby said.
"The high-volume players aren't going to look at the smaller in-fill sites, because it's just not worth their while."
For this reason, smaller developers could play a critical role in helping to meet Australia's ambitious new housing target, by picking up the slack of modest in-fill projects neglected by bigger players.