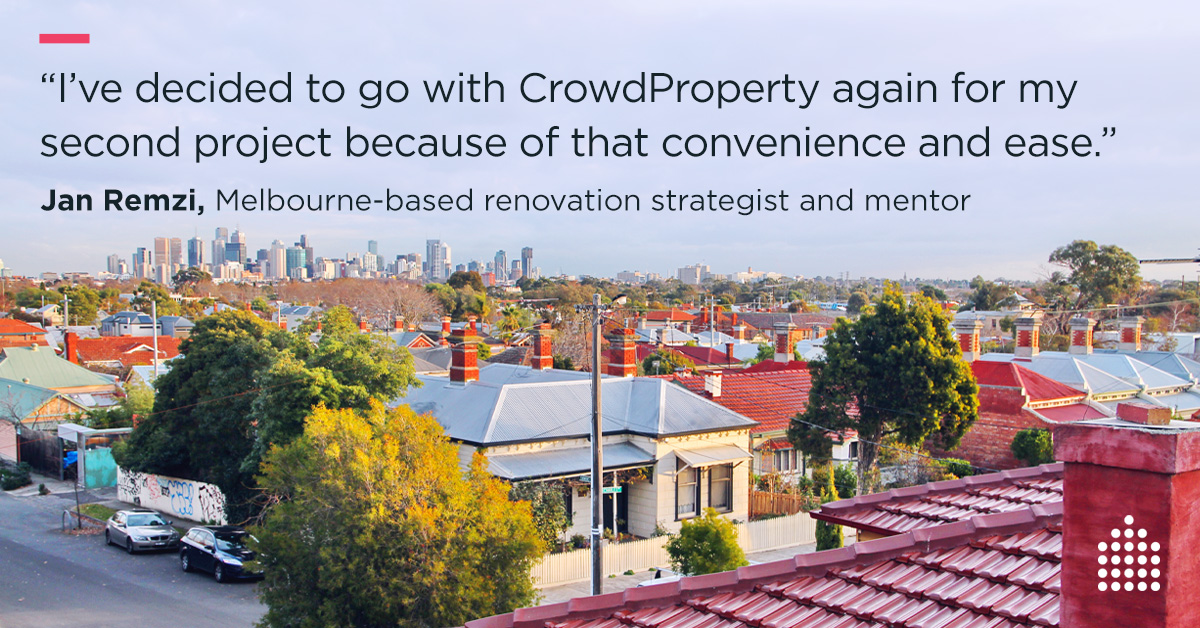 Following the housing boom triggered by Australia's Covid-stimulus measures, Jan Remzi, a Melbourne-based renovation strategist and mentor, saw fresh opportunities for renovation flips in the suburbs of the Victorian capital.
Along with other major cities, housing prices in Melbourne soared during the recent 2020 - 2021 growth cycle, posting an overall increase of 21%.
Like many other members of the Australian property sector, these gains prompted Jan to search for opportunities to capitalise upon the Covid-era housing boom.
After giving consideration to other property investment strategies, Jan soon decided that the renovation-flip made the most sense from an economic perspective.
"Initially I was looking for potential properties for knock down and rebuild," Jan said. "But the market at that point in time wasn't conducive to that — the figures just weren't adding up.
"If I'd look at the same properties, however, and assess them for renovation-flips, the figures made much more sense. For this reason I decided to change strategy."
Traditional financial institutions such as banks are often unwilling to provide funds to smaller scale property projects, lacking the systems or expertise to properly scrutinise these undertakings
Instead of applying for a loan from one of the established banks, Jan opted to seek financing from CrowdProperty — a marketplace lender that specialises in small-scale real estate development.
"I found that I was very limited in terms of where I could obtain funds," Jan said. "This is what led me to start looking at other options such as private lenders."
While private lenders may have been willing to provide funds, Jan found that CrowdProperty, as a specialised marketplace lender, could offer her greater support and expertise.
"Private lenders are not as flexible, while CrowdProperty was able to cover more of my project than the other options I had considered.
"Other lenders would only cover 60% of the purchase price, and no renovations, while CrowdProperty offered me 70% of the purchase price, plus renovations."
Jan eventually decided to use CrowdProperty's services for two projects in the Melbourne suburb Rowville, both of which were renovation flips.
When it comes to renovation flips, Jan's specialisation lies in gut and reconstruct projects — gutting the bathrooms and kitchens and installing new floor and facilities to make the insides brand new.
CrowdProperty's support has already helped Jan to complete the first of her two renovation projects in Rowville.
"We acquired the first project in September [2022], and have since gone through a six-month renovation process," Jan said.
"The purchase price was $1.6 million, while the renovation costs were around $250,000, and we expect to sell for between $2.3 million to $2.5 million."
"CrowdProperty were really helpful because they understand the development process. Their team was highly supportive, even allowing me to perform a virtual inspection of the property while I was out of state to enable the release of renovation funds."
Jan said the relationship she established with the team at CrowdProperty proved highly helpful in expediting the completion of her project.
"It's just been easy because of that relationship with them," Jan said. "I've decided to go with CrowdProperty again for my second project because of that convenience and expertise."
CrowdProperty provides specialist property project finance with speed, expertise, and certainty. Learn more.