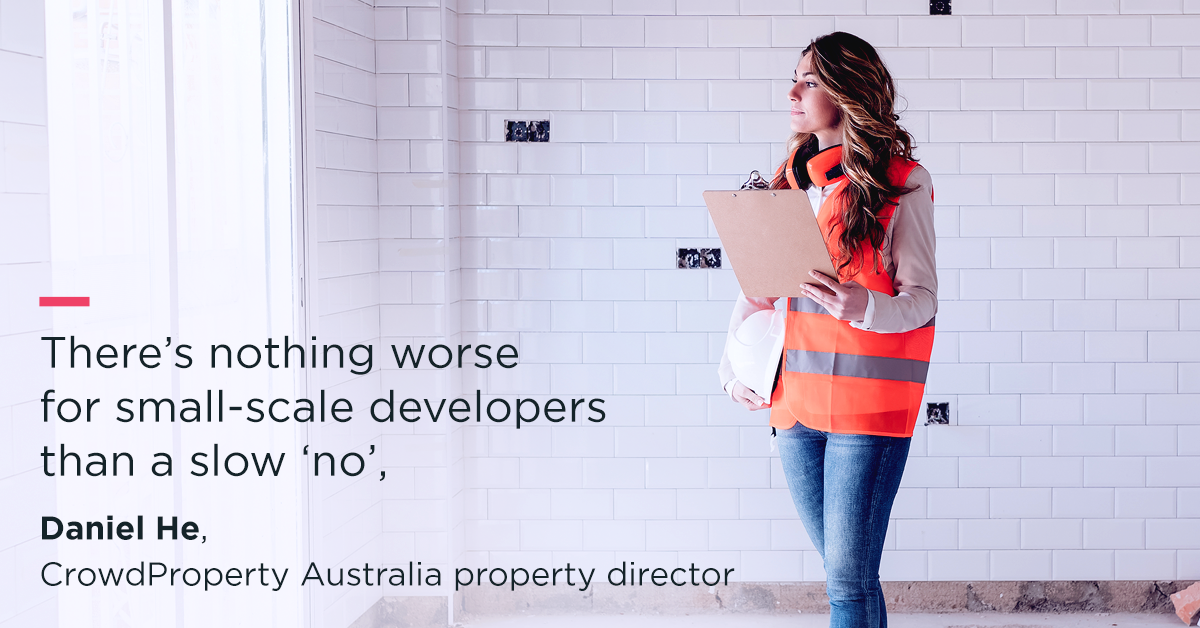 Facing common frustrations in their attempts to source funding we look at how small-scale property developers can put their best foot forward to secure specialist funding fast.
It's a common source of frustration for small-scale property developers that their excitement to undertake a new residential development is thwarted by the slowness of traditional lending options in approving commercial finance.
The development opportunity can be lost while an inordinate amount of time and people power is wasted by financial institutions as they trawl through applications at a snail's pace.
"With us, developers will have an answer within 72 hours and a 'yes' or 'no' within a week, as this could be the difference between whether a deal goes ahead or not," Daniel He, CrowdProperty property director, says. "There's nothing worse than a slow 'no'. Small-scale property developers are typically small business owners and we find they really value an independent, expert review of their project, including their team's ability to deliver.
"We do this at no cost to them. We can also help developers to find all the hidden costs within their finance proposals.
"If the project ends up being a 'no' from us, we never put a black mark against their name. We encourage them to come back earlier with the next project so we have time to offer support and guidance."
The frustration for developers
Founded in the United Kingdom in 2014, CrowdProperty is a leading property specialist marketplace lender of development loans to small-scale property developers.
In an exclusive survey [in the UK], CrowdProperty interviewed in excess of 300 developers to discover their pain points when it came to raising finance. The comments ranged from, 'nobody understood property' to 'I felt thoroughly interrogated' and 'banks might be cheap money but it's a higher price in the end'.
"The banks are failing property developers," Daniel He says. "We can make a decision in six days. Banks can take up to six months. By then, the opportunity has gone and you have several frustrated parties all wishing they had undergone a simpler, more transparent process."
The survey also revealed that 42% of developers cited obtaining funding as the biggest barrier to developing more homes. A further 41% stated they would benefit enormously if there were better sources of funding and would build more homes within the next three years if it were available.
Industry research revealed that between 2025 to 2032, Australia will find itself 163,400 homes short of expected demand. "There are various solutions to building the necessary number of homes required, one of which is enabling small-scale developers to improve density with good quality homes in urban infill sites. That is not going to happen if small-scale property developers have to wait up to six months to get finance approval for one residential development," He says.
A partner with expertise
As property experts, CrowdProperty's 57-point due diligence process begins from the moment an online application is submitted, which takes around five minutes to complete.
Daniel, who has 15 years' experience in the property development market, says having an expert, property specialist team, along with access to surveyors, builders and valuers, and the latest data and technology, gives CrowdProperty Australia the edge in assessing applications quickly.
"We give developers the funding solution and expertise they never knew existed," He says. "We free up their time to concentrate on the project, and find the sites they need, which is what they should be doing. The other added benefit is that because we make decisions so quickly, we give the developers the opportunity to work on multiple projects at once and scale quickly.
"What we offer is transparent. We don't have any hidden fees and/or overhead costs."
The most important issues
The survey revealed that the five most important factors experienced property developers value when seeking finance are:
1.Speed (of decision)
2.Transparency
3.Access to decision makers
4.Loan amount (LVR)
5.Ease of use
"It is important developers know what financiers are thinking in terms of security, returns, timeframes, resolving issues and exiting the project," He says. "That way, they will know what questions to expect."
What financiers want to know
"An excellent finance application outlines clearly the costs to date, the cost to complete, and the drawdown schedule. That way, there are no surprises.
"Outlining comparable sales with similar sized build projects within 500 metres, and what they sold for, helps the financier make quicker decisions. Detailing your experience on previous project/s — showing what went right and what went wrong — emphasises your learnings."
Daniel also says that stating the demographics of the target market, detailing each member of your team and how you plan to mitigate risks, will always work in your favour.
"At CrowdProperty we will review any project in order to customise funding proposals, whether it is a new build, conversion, serviced accommodation, and even modular construction," he says.
"Because the team at CrowdProperty have all worked, and are still working in the development industry, we have first-hand knowledge and experience that we can pass on and can make quick decisions, so developers aren't left waiting."
The upfront costs
The CrowdProperty Australia model is simple, transparent and provides first mortgage security. Property developers/borrowers typically pay 8-10% on loans between 6-18 months. The platform takes a 2-3% success fee.
"With CrowdProperty, developers are offered decision making that encapsulates speed, ease, certainty, transparency and expertise in property projects," Daniel He says. "With us, fast decisions are your assurance and within seven days, you will have an answer."
CrowdProperty provides fast, simple and transparent property project finance for property professionals, learn more.