The Australian property market has softened on the Reserve Bank of Australia's (RBA) three-month run of interest hikes, launched in response to supply-chain driven inflation. Futures markets have priced in rate hikes for another year at least, which could drive up mortgage repayments and undermine housing prices. CrowdProperty looks at the latest market commentary and what it could mean for the sector going forward.
The current state of the market
Annual consumer price index (CPI) inflation rose to 5.1% in the March quarter, on the back of a rise in dwelling construction costs and automotive fuel prices. RBA governor Philip Lowe said he expects inflation to further accelerate to a peak of around 7% in the final quarter of this year.
Lowe's concerns over inflation have already prompted the RBA to withdraw from its dovish stance on monetary policy and launch a string of interest rate hikes.
On 5 July the RBA announced another 50 basis point increase, which brings the official cash rate target to 1.35%. The announcement marks the third back-to-back increase, following a 50 basis point hike in June, and a 25 basis point hike in May.
Inflation and expectations of further interest rate hikes have already led to softness in Australian property market prices.
Data from CoreLogic indicates that home values across Australia edged lower by 0.6% in June, with declines led by Australia's biggest cities, including Sydney (-1.6%) and Melbourne (-1.1%). Hobart also saw a 0.2% decline, while regional Victoria edged lower 0.1%.
Rob Flux, developer and educator from the Property Developer Network, said it's become a softening market from a sales perspective.
"Interest rates are starting to climb, and inflation is starting to climb," he said. "The number of people purchasing properties is starting to diminish, and a number of people are starting to get nervous because they're worried about interest rates starting to go up at the end of the year."
Upcoming trends to watch out for
The RBA forecasts inflation will peak at 7% in the final quarter, while members of the property sector point to price gains driven by constrained supplies of building materials.
"Inflation is a global supply chain issue, with some opportunistic price gouging from people who are using it to their advantage," Flux said.
As a consequence the market is pricing in further rate hikes for at least another year, with futures prices putting the official cash rate at 3.0% by December and 3.5% by June 2023.
This will trigger a surge in average monthly mortgage repayments of up to 48% versus their level in April, according to research from MacroBusiness. For this reason, the RBA runs the risk of sending home prices into a tailspin if it proceeds with rate hikes too aggressively.
Rental demand to grow but affordability could limit rate of growth
CoreLogic research analyst Kaytlin Ezzy said the recent upwards trend in rents has occurred mostly in the absence of overseas migration, 'with such strong rental conditions attributable to a combination of low supply and higher demand due to shrinking household sizes'.
Rent rates are forecast to grow further as international migration returns to pre-Covid levels. According to CoreLogic director Tim Lawless however, affordability constraints may eventually limit the rate of growth.
"With the exception of Darwin, the strong rental growth seen over the past year has led dwelling rents across all of the capitals to reach new record highs," Mr Lawless said.
"Despite growing affordability concerns, rental markets are expected to remain tight for some time yet partly due to a shortage of supply following a long period of low investment activity between 2015 and 2021, but also due to renewed rental demand as international migration recovers."
Meanwhile, new dwelling approvals are down according to the Australian Bureau of Statistics trend summary by state. Across Australia, the number of dwelling approvals decreased in Northern Territory (-3.7%), Victoria (-2.8%), Tasmania (-2.5%), New South Wales (-2.2%), and the Australian Capital Territory (-2.1%), in trend terms. Dwelling approvals rose in Western Australia (1.9%), Queensland (0.8%), and South Australia (0.4%).
Approvals for private sector houses fell in New South Wales (-2.3%) and Victoria (-0.4%). Queensland (2.0%), Western Australia (0.6%), and South Australia (0.1%) rose, in trend terms.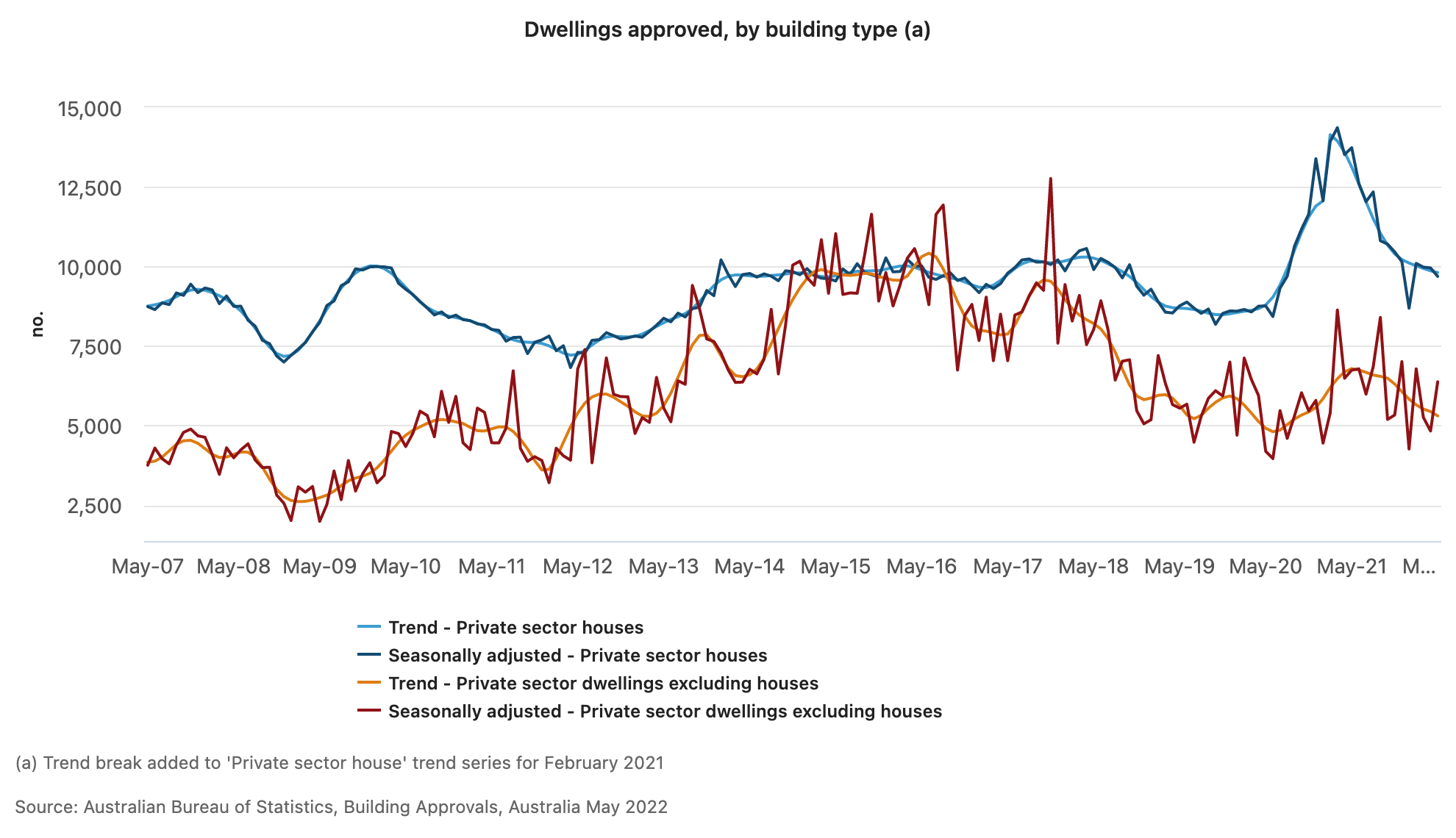 Opportunities for small-scale developers exist with counter-cyclical thinking
Despite these dour conditions, there could still be ample opportunities available for small-scale developers, if they adopt a longer-term counter-cyclical approach when it comes to timing purchase and sale opportunities.
"Property developers need to think counter-cyclically, because when the market is starting to soften it actually creates opportunities for us to make good purchases," Flux said.
"Developments also take time, so we are typically buying and selling into different markets. Now should be the time for good developers to get excited."
Given the opportunities that could lie in wait, developers should start to look for property financing from a partner who is highly supportive and can fully understand their needs. As a specialised marketplace lender, CrowdProperty is ideally positioned to fulfill this role.
Our team is composed of property sector veterans who have a deep understanding of the residential development process. This enables us to best solve the financing pain points of smaller developers and provide thorough support that ensures the success of their projects.
CrowdProperty provides fast, simple and transparent property project finance for property professionals, learn more.
Contributors
Rob Flux is the owner and founder of Property Developer Network, the largest national network of novice developers and renovators in Australia with a combined community of over 15,000 people.