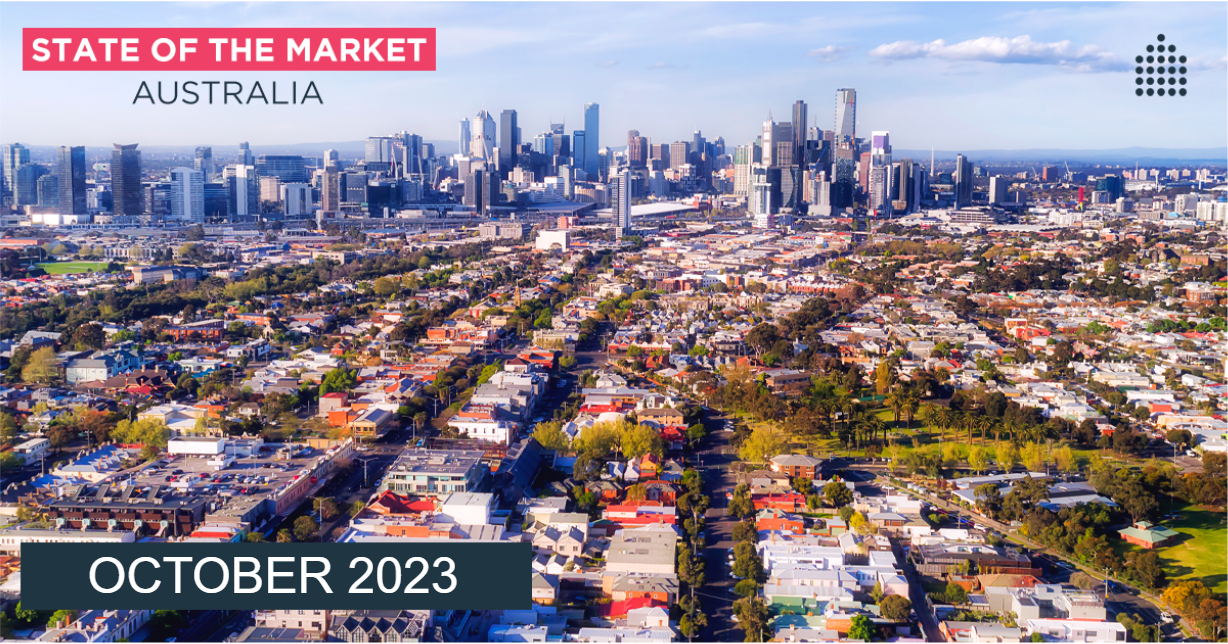 Australia's property market continued to climb in September, with national housing values posting their second consecutive month of annual increase.
Prices could receive further support from the Reserve Bank of Australia's (RBA) decision to extend its interest rate pause. The RBA could remain, however, warning that "some further tightening of policy may be required should inflation prove more persistent than expected" following a slight increase in the latest monthly CPI figures.
National home prices see second month of annual growth
Data from CoreLogic points to further recovery of Australia's housing market in September. The combined market value of dwellings in capital cities increased 0.9 per cent, compared to a 0.8 per cent rise for August.
CoreLogic's Home Value Index indicates that national home prices increased 3.9 per cent in the year to September, for the second straight month of annual increase after shifting into positive territory in August.
The combined value of Australia's residential real estate now stands at $10.1 trillion, compared to $10 trillion at the end of August.
While sales levels are starting to recover, they still remain beneath even the recent low benchmarks set during the Covid pandemic. Australia saw around 39,216 dwelling sales in September, just below the five-year average of 40,607 per month.
Capital city sales were 1.8 per cent below the historic five-year average at 24,996 in September, while combined regional market sales were 6.1 per cent beneath the average at 14,220.
RBA further extends rate pause
The RBA gave further succour to markets at the start of October, with newly appointed governor Michele Bullock announcing that the cash rate target would remain unchanged at 4.10 per cent.
October marks the fourth month that the RBA has held off on rate hikes after last implementing a 25 basis point increase at the start of June. From April 2022 to June 2023 the cash rate target saw an increase of four percentage points, contributing to a slump in the housing market.
Rob Flux, developer and educator from the Property Developer Network, said the RBA's moderating stance is helping the Australian property market to regain its footing.
"This is the start of the recovery," Flux said. "We're seeing more listings and we're seeing equally more sales, while the sales price points are slowly rising."
"They need property to recover because it's such a big part of the Australian economy. It's the second largest employer in the country when you include sales, marketing, development, construction and property management."
Many analysts nonetheless anticipate at least one more hike before the end of 2023, given the RBA's commitment to fully containing inflation.
"Returning inflation to target within a reasonable timeframe remains the Board's priority," Bullock said in an official statement.
"Some further tightening of monetary policy may be required to ensure that inflation returns to target in a reasonable timeframe."
Minutes from the RBA's 3 October meeting indicate that the board mulled a hike of 25 basis points for the current month, after the headline consumer price index saw an uptick in growth to 5.2 per cent in August.
While Bullock said inflation in Australia had "passed its peak", RBA's central forecast projects that it still will take until late 2025 until CPI inflation declines to the target range of 2 - 3 per cent.
Measures to tackle housing supply still uncertain
A recent landmark event for Australia's property sector was the release by national cabinet in August of the National Planning Reform Blueprint, in a bid to address the country's severe housing shortfall.
The Blueprint sets the target of building 1.2 million new well-located homes over a five-year period starting from 1 July 2024, while also streamlining approval pathways in order to facilitate development.
The release of the Blueprint may have already triggered an increase in home approvals and building starts. Overall dwelling approvals leaped 7 per cent in August, on the back of an 8.8 per cent rise in unit approvals and a 6 per cent increase in house approvals.
David Ingram, CEO, CrowdProperty Australia, said the figures "reflect the loan application volume that we are seeing in CrowdProperty Australia with development approval."
Construction levels could receive further support from a significant easing in cost growth. CoreLogic's Cordell Construction Cost Index indicates that the pace of growth in construction costs slowed by 0.2 percentage points to 0.5 per cent over the September quarter, for its lowest rate of increase since 2015.
Despite the ambitious scope of the target, however, Rob Flux said the plan is unlikely to effectively address the problem of Australia's inadequate home supply.
"The intent is to standardise planning practices across the country and fast-track processes in every jurisdiction, but I think it's too little too late," Flux said.
"There will still be a massive housing shortfall over the next four to five years. This means once interest rates come down, property prices are going to go through the roof."
Ingram said that fast tracking approvals is only part of the solution to solving Australia's housing shortfall. Measures are needed to help small-scale developers gain access to financing, in order to transform planning approvals into actual homes.
"Zooming in on the latest CoreLogic data shows that the trend is still below the decade average," he said.
"We know first hand the current challenges for SMEs trying to make projects stack up with higher rates and land values, and are focusing on providing finance with the certainty and expertise that can help convert these approvals into much needed homes"
Housing supply a key issue for state governments
Further to the announced housing targets and goals from NSW and VIC state governments in September, the Queensland state government has unveiled planning reforms to deliver more homes, including new legislation introduced to "streamline housing development and unlock land supply," along with a number of measures to "open up underutilised land".
The Housing Availability and Affordability Bill 2023, introduced last week, amends the Planning Act 2016 to improve the planning framework's response to housing supply challenges. The proposal aims to support the construction of 900,000 new homes to accommodate 2.2m new residents.
In an interview earlier in October, NSW housing minister Rose Jackson said that overriding councils when it comes to planning is on the table.
"You are right to say it's time to get a move on and if we do keep coming up against barriers to the delivery of housing then we're going to need to change the planning system," Jackson said.
If the NSW government follows that approach, it could mirror the changes made last month by Victoria's government.
The Victoria government took control of local planning laws to centralise the development of certain building types to develop 80,000 new homes a year across the next decade.
CrowdProperty head of operations, Lisa Digby said planning changes are necessary to help small-scale developers get to work building more homes in existing communities, where people want to live, right now.
"Small and medium scale projects will benefit from reduced time for planning decisions as it reduces the holding costs that developers wear and therefore improves the feasibility of projects for funding, along with the general timing benefits of delivering more product to market quicker," Digby said.
"How quickly this translates into something meaningful for developers to respond to will certainly be a space to watch."
CrowdProperty provides fast, simple and transparent property project finance for property professionals, learn more.